Cloud Productivity and Collaboration
Cloud hosting is all the rage. Chances are, some aspect of your organization's technology lives in the cloud. But what does "cloud hosting" mean, and what do you need to know to evaluate whether it's a good option for your business? One popular cloud host got some unwanted attention recently when they booted a social media platform whose conservative leanings were not to their liking. The social media platform went offline abruptly and scrambled to find a new host. This caused a media stir amidst the trend of "cancel culture" and prompted many business owners to ask, "Could that happen to me?"
Looking for a way to make expense reporting a breeze, even with employees working outside the office? We're investigating how the Gorilla Expense app integrates with Microsoft Dynamics GP, making it an easy, seamless and scalable solution for businesses of all sizes. This expense reporting method provides a smooth and automatic integration with Dynamics GP, as their proprietary integration software makes magic happen with the click of a button.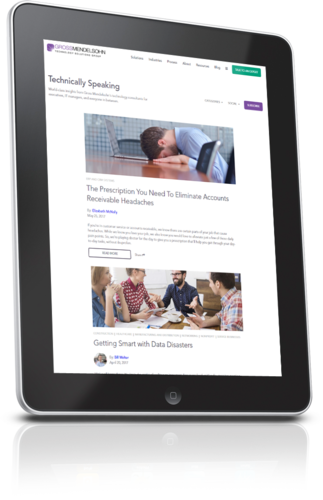 Subscribe To Our Blog
With your blog subscription, you'll get a free cyber security awareness guide for you and your team.
The first product update for Sage 300 2021 is here, and it has some nifty features that you'll want to take advantage of to improve your tax reporting. Let's take a look at what's new in this latest software release.
One of the latest features to be released in Sage 300 2021 is the ability to accept payments through online service providers such as PayPal and Stripe. This seamless process will ensure your customers can pay you effortlessly through a trusted provider. Let's take a look at how this works and how you can connect to a payment provider to jumpstart the process!
Cloud Productivity and Collaboration | ERP and CRM Systems | Manufacturing & Distribution
Successful businesses often share these common traits: they efficiently manage fulfillment, eliminate manual work and manage only by exception. As customer expectations and supply chain complexity continue to rise, it is more critical than ever to deliver the perfect order. So, how does this happen efficiently and profitably?
If you haven't heard the news, there is a major zero-day exploit quickly spanning the globe. A zero-day exploit is an advanced cyber attack that exposes a vulnerability in software/hardware, which can create a series of complications before it is detected. Until the vulnerability is remediated, hackers can exploit it affecting your data and network. The most recent exploit is targeting local installations of Microsoft Exchange. Once attackers find a vulnerable Exchange server, they gain a foothold on that server and attempt to mine your data.