Manufacturers and distributors know how critical inventory management is. In fact, manufacturers and distributors who maintain proper inventory levels often enjoy increases in sales. Knowing how much inventory you have, how much you need for future sales and how to account for anomalies helps you plan for demand. Good demand planning solidifies how much product to manufacture, how much raw materials to keep on hand, and how much to ship to different locations. Likewise, distributors must forecast customer demand. All of that is easier said than done, but there are tools to help you sharpen your demand planning.
Cyber security breaches are on the rise and there's no clear end in sight. Breaches today are affecting businesses of all shapes, colors and sizes. Government contractors in particular are under increased pressure to demonstrate the cyber security measures they have in place. That's because government contractors who fail to meet cyber security requirements will be ineligible for certain contracts.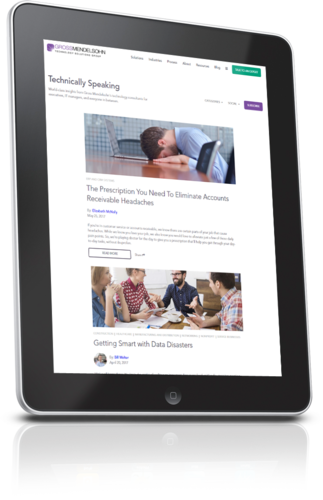 Subscribe To Our Blog
With your blog subscription, you'll get a free cyber security awareness guide for you and your team.
For thriving service companies, the right enterprise and business software can make all the difference between maintaining the status quo and scaling up to the next level. Progressive and innovative service companies are looking to create new business models that disrupt the status quo. Here's how they do it.
It's all over the news: the Colonial Pipeline, JBS meat company and Massachusetts Steamship Authority have all been struck down by crippling ransomware attacks. Let's look at why these cyber attacks are happening and, more importantly, what you need to do to safeguard your business from an attack.
Construction & Real Estate | Healthcare | Manufacturing & Distribution | Networking | Service Businesses
Cyber attacks continue to be on the rise. That's why organizations are turning to new safeguards to protect their business, and their wallet, from the expense of a cyber attack.
We've been deep in this new realm of remote work for more than a year now. Zoom, Microsoft Teams, Slack, GoToWebinar and virtual whiteboards are our daily norm. While software tools often get all the glory because of impressive user interfaces, fun virtual backgrounds and a constant flow of new features, let's not forget about what powers those tools — hardware. I'm here to pull back the curtain on several tech innovations that will make your organization's remote users more efficient than ever.