If you haven't heard the news, there is a major zero-day exploit quickly spanning the globe. A zero-day exploit is an advanced cyber attack that exposes a vulnerability in software/hardware, which can create a series of complications before it is detected. Until the vulnerability is remediated, hackers can exploit it affecting your data and network. The most recent exploit is targeting local installations of Microsoft Exchange. Once attackers find a vulnerable Exchange server, they gain a foothold on that server and attempt to mine your data.
Healthcare organizations are in a global state of emergency - not only due to the pandemic, but because hackers are targeting their cyber security shortcomings. Numerous studies show that the healthcare industry is the biggest target for hackers. Organizations that fall victim to a cyber attack could face hefty fines and significant reputation damage. Not only that, but your patient data could also be compromised, putting their information in the hands of a malicious hacker. I recently partnered with my colleague Steve Rutkovitz from Choice Cybersecurity to identify the current threats healthcare organizations are facing and how to minimize the risk of an attack in the future. Let's jump in and explore the five-step process for how to take your HIPAA security to the next level and achieve true cyber health.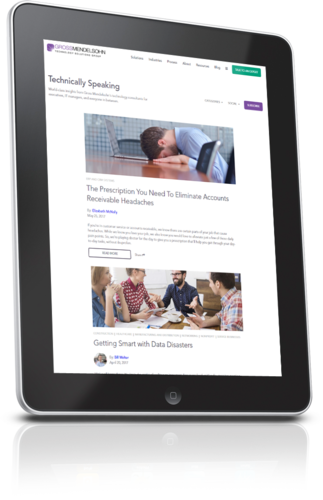 Subscribe To Our Blog
With your blog subscription, you'll get a free cyber security awareness guide for you and your team.
Government Contractors | Networking
Did you know that October is National Cyber Security Awareness Month? I don't think it's a coincidence that this event occurs during the same month as Halloween - it's a scary topic! Let's review some of our team's best practices, tips and "tricks" to keep your organization from experiencing something that goes bump in the night.
Construction & Real Estate | Healthcare | Manufacturing & Distribution | Networking | Nonprofit | Service Businesses
It's World Password Day! Now is the perfect time to take inventory of your passwords and see how well you're protecting your online data. Today's password standards might look a little different than what you'd expect. Keep reading on to discover password best practices that keep cyber threats at bay.
There is a big push to work remotely in the era of COVID-19. Working remotely is a great way to practice social distancing. There are also other benefits beyond today's health concerns, such as flexibility, space savings, time savings and minimizing distractions. There are several ways to enable people to work remotely. Some of them, like Microsoft Teams, can be implemented quickly and easily. However, when choosing a solution, security needs to be top of mind. Remote access can be the gateway to let an attacker in if not setup correctly and securely.
It's National Cyber Security Awareness Month (NCSAM). Every October, the government publishes a few extra resources to build awareness about cyber security. Several organizations might think that involves purchasing a new software or signing up with a new IT team. While that can be the case, you don't always have to empty your wallet to improve your organization's cyber security. In celebration of NCSAM, we put together a quick list of free tools you can use to evaluate your organization's cyber security level.