Construction & Real Estate | Healthcare | Manufacturing & Distribution | Networking | Nonprofit | Service Businesses
It's World Password Day! Now is the perfect time to take inventory of your passwords and see how well you're protecting your online data. Today's password standards might look a little different than what you'd expect. Keep reading on to discover password best practices that keep cyber threats at bay.
There is a big push to work remotely in the era of COVID-19. Working remotely is a great way to practice social distancing. There are also other benefits beyond today's health concerns, such as flexibility, space savings, time savings and minimizing distractions. There are several ways to enable people to work remotely. Some of them, like Microsoft Teams, can be implemented quickly and easily. However, when choosing a solution, security needs to be top of mind. Remote access can be the gateway to let an attacker in if not setup correctly and securely.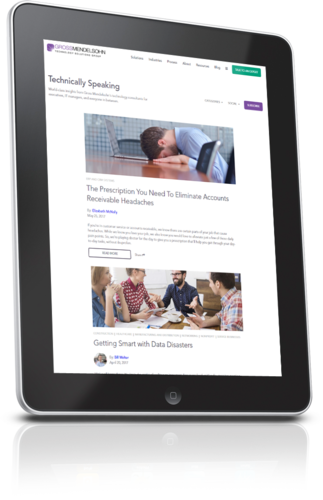 Subscribe To Our Blog
With your blog subscription, you'll get a free cyber security awareness guide for you and your team.
It's National Cyber Security Awareness Month (NCSAM). Every October, the government publishes a few extra resources to build awareness about cyber security. Several organizations might think that involves purchasing a new software or signing up with a new IT team. While that can be the case, you don't always have to empty your wallet to improve your organization's cyber security. In celebration of NCSAM, we put together a quick list of free tools you can use to evaluate your organization's cyber security level.
You have many options when searching for the best managed services IT provider for your company. Finding the right fit can be overwhelming and stressful. Not to mention costly if you make the wrong choice. Here are three questions you should ask prospective tech companies before signing on the dotted line.
What do you do when you find someone doing something illegal on the internet? There's no superhero seeking out cyber criminals on your behalf and sending them off to the police department. You can call the police if you've experienced a substantial cyber-crime like a major ransomware hack or identity theft. However, the run-of-the-mill cyber-criminal can steal from you and get away with it for a long time before ever getting caught. You might be surprised to know that there are several effective online tools to report a cyber-criminal. Let's look at some common cyber-crimes, how to spot them, and what to do about them.
With the number of cyber threats targeting your business, cyber security should always be top of mind. With hackers changing their methods so frequently, how can you keep up? Even though cyber attacks are getting more sophisticated, there are a few shockingly effortless ways to keep up on cyber security. In fact, even your grandma can handle these cyber security tactics.