For any organization with staff members reporting expenses, you need to establish policies to clearly lay out what kinds of costs are reimbursable. With expense report policies in place, you can ensure your employees are on the same page while maintaining visibility into costs and keeping them under control. As your organization grows and develops, you can amend or add to policies as needed.
A powerful enterprise resource planning (ERP) system is central to optimizing operations across roles and departments. However, ERPs don't automate accounts payable (AP) processes. AP is consistently ranked by financial executives as the single most time-consuming function in finance — but don't worry! You can advance your AP processes with payables automation to get the most out of your ERP investment.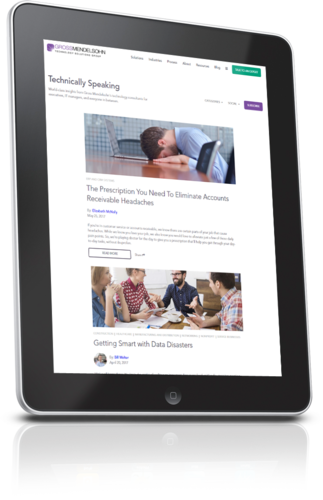 Subscribe To Our Blog
With your blog subscription, you'll get a free cyber security awareness guide for you and your team.
Are your current business processes in need of an update? Even if your workflows are tried and true, switching to more efficient operations increases productivity and saves you from unnecessary costs. If you're not considering how to innovate your everyday functions, your organization is bound to fall short of reaching its full potential.
ERP and CRM Systems | Manufacturing & Distribution
Over the years, small to midsized manufacturing companies have pieced together multiple applications to run their operations, from accounting to order fulfillment, to sales and marketing. This infrastructure lacks many capabilities, limits visibility into essential business information and doesn't allow companies to adapt to changing market conditions and new business models. This piecemeal approach results in companies trying to grow by adding even more systems or niche applications—which often aren't integrated with each other and exacerbate inefficiencies.
In the global market, businesses must be data driven, innovative and able to scale rapidly in response to changing market dynamics and customer demands. When operating internationally, your business needs a solution that allows you to execute at a global scale by providing country-specific capabilities, enabling you to meet local compliance and reporting obligations wherever you do business in the world.
ERP and CRM Systems | Nonprofit
There's no question that nonprofit organizations have faced countless challenges over the course of the past two years. As the need for your important efforts escalates, your organization has to keep up. Couple that need with a technology infrastructure that fails to meet demands and you're at a complete disadvantage. Your organization requires reliable operations to stay afloat and excel in fulfilling your mission to serve.