The first product update for Sage 300 Version 2022 (2022 R1) is now available. Let's look at the enhancements added in this latest software release and how you can take advantage of these features.
ERP and CRM Systems | Nonprofit
For nonprofit organizations, financial sustainability is built upon the timely review and reporting of financial activities to constituents. With the increasing need to accurately measure outcomes, rising donor expectations and massive changes in the nonprofit business model, nonprofit organizations can't afford to use obsolete technologies that can't provide real-time visibility and insight into their operations, expenses and mission progress.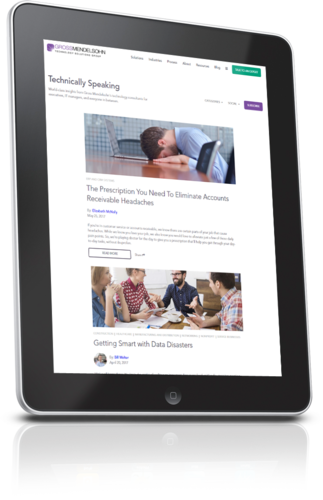 Subscribe To Our Blog
With your blog subscription, you'll get a free cyber security awareness guide for you and your team.
ERP and CRM Systems | Manufacturing & Distribution
Even though barcodes are easy to create, only about half of businesses are using mobile scanners in their warehouses and fulfillment centers today. For small businesses, it may seem like something to strive for when they're bigger. The reality is that mobile scanning is easy and inexpensive to adopt, and you will likely benefit far earlier than you may expect.
Apparel, Footwear and Accessories | ERP and CRM Systems
As the pace of change in business accelerates—especially for those still relying on aged, on-premise ERP systems—apparel, footwear and accessory (AFA) companies are struggling to keep up. Coupled with the current state of labor shortages and issues with staff retention, your business needs to be up-to-speed on the latest industry best practices to ensure improvement and efficiency across all your processes.
ERP and CRM Systems | Manufacturing & Distribution | Service Businesses
Your business must be prepped with the supplies it needs in order to operate. For that reason, having a reliable procurement process is essential for your business's success. While going through the procurement process, you need to establish and maintain effective communication with vendors and guarantee accurate payment and purchase tracking information. This ensures you have what you need to accomplish your end goal of providing your customers with a high-quality experience.
ERP and CRM Systems | Service Businesses
Although inventory plays a different role than in other industries, it is no less significant to running your service business. The quality of your services and the satisfaction of your customers depend on the materials your business uses to get the job done. That is why properly managing your inventory is imperative.