ERP and CRM Systems | Nonprofit
Baltimore Youth Cycling (BYC) is a nonprofit that introduces kids to bike racing and develops junior bike racers through their road and cyclocross racing programs. BYC is 100% volunteer-run and relies on electronic systems to keep their operations running smoothly. As BYC entered their seventh year, they decided to move from QuickBooks Online to NetSuite's SuiteSuccess for Social Impact edition. Why the change, and how did the switch go?
ERP and CRM Systems | Manufacturing & Distribution | Nonprofit | Service Businesses
Expense reports are essential to monitoring spending and tracking the costs incurred from your business operations. Whether they're monthly, long term or recurring, it's important to analyze this information to get a clear view of your organization's spending patterns and trends to see if they match forecasts and where you can reduce costs.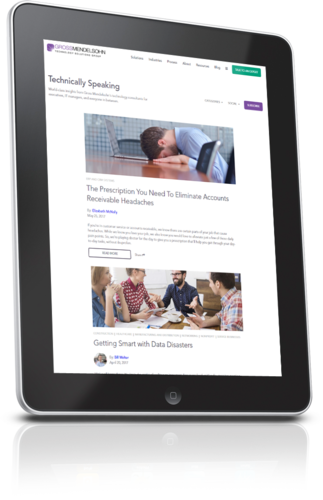 Subscribe To Our Blog
With your blog subscription, you'll get a free cyber security awareness guide for you and your team.
ERP and CRM Systems | Manufacturing & Distribution | Nonprofit | Service Businesses
If you're relying on separate systems to execute your organization's essential functions, chances are you've been faced with challenges regarding information accessibility, accuracy, consistency and so forth. It might seem like these challenges are a given and just growing pains as your business or nonprofit expands. The fact is, those growing pains are never ending unless you find a technology system that can support all aspects of your organization.
ERP and CRM Systems | Manufacturing & Distribution
Without a doubt, scheduling is one of the most complex functions within a manufacturing business. For years, the challenge has always been to find a solution that has the complexity to achieve the desired results while still being user friendly. Let's pull back the curtain on a feature-rich scheduling tool built with manufacturers in mind.
ERP and CRM Systems | Service Businesses
Looking to enhance project management for your service business? Good project management helps you improve oversight of your operations and maintain tighter control of project accounting. It provides key insights and helps you understand the true costs of the services you render and get an accurate and detailed view of profitability. Sound good? NetSuite Project Management is a tool that'll help you do those things. Let's look at what it offers to service businesses.
When's the last time you took a long, hard look at your business's ecommerce platform? Your customers are using it every day. If they're not having efficient, personalized experiences on your ecommerce site, you could be leaving money on the table. A seamless, easy-to-use ecommerce platform, quite simply, can help your business sell more product, keep customers happy, and fulfill orders accurately and efficiently. There's nothing more frustrating as a customer than dealing with a disjointed order management system and being unable to see inventory in real-time. Those failures lead to brand discontent, business efficiency and frustrated customers.