If you've ever seen Disney's 1999 classic, Smart House, you know that while having a smart house is cool and convenient, it can lead to some messy situations. Sure, there might not be a robot woman wreaking havoc on you and your family as you use home technology. But, the reality is a lot creepier. Our homes are becoming more "smart" every day. With the convenience of adjusting your thermostat from the road, there lies some risk. What if a hacker gets into your thermostat and adjusts the A/C to 60 degrees, making your electric bill skyrocket? What if someone could remotely view your cameras and tell when you were not home? Unfortunately, that is the world we are living in. Now we're not saying that having a connected smart home is a bad or dangerous thing, but there are several ways you can protect yourself, your family and your home. Let's start by seeing where home cyber threats are coming in…
What do you do when you find someone doing something illegal on the internet? There's no superhero seeking out cyber criminals on your behalf and sending them off to the police department. You can call the police if you've experienced a substantial cyber-crime like a major ransomware hack or identity theft. However, the run-of-the-mill cyber-criminal can steal from you and get away with it for a long time before ever getting caught. You might be surprised to know that there are several effective online tools to report a cyber-criminal. Let's look at some common cyber-crimes, how to spot them, and what to do about them.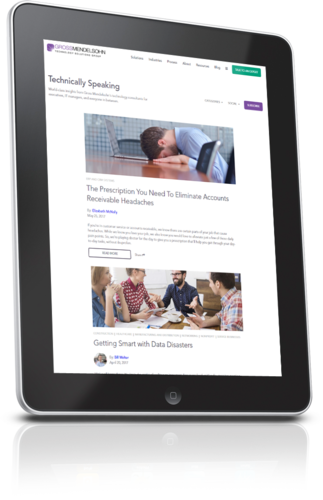 Subscribe To Our Blog
With your blog subscription, you'll get a free cyber security awareness guide for you and your team.
With the number of cyber threats targeting your business, cyber security should always be top of mind. With hackers changing their methods so frequently, how can you keep up? Even though cyber attacks are getting more sophisticated, there are a few shockingly effortless ways to keep up on cyber security. In fact, even your grandma can handle these cyber security tactics.
Construction & Real Estate | Healthcare | Manufacturing & Distribution | Networking | Nonprofit | Service Businesses
There are a few recurring IT issues that plague even the most savvy computer users. We're dedicating this blog post to those users who are diligent when it comes to technology and cyber security, but need a quick fix to get out of a common problem. We're revealing the five most common questions our help desk gets, and how we address them for clients.
Construction & Real Estate | Healthcare | Integrations and Development | Manufacturing & Distribution | Nonprofit | Service Businesses
Like any technology purchase, there will be a time where your software or hardware will become outdated. For consumers, it's a simple matter of upgrading your cell phone or laptop. Businesses, however, face a more daunting task when software is no longer supported by the manufacturer.
Construction & Real Estate | Healthcare | Manufacturing & Distribution | Networking | Service Businesses
With the onslaught of cyber attacks in 2018, organizations are turning to new safeguards to protect their business, and their wallet, from the expense of a cyber attack.