Construction & Real Estate | Healthcare | Manufacturing & Distribution | Networking | Nonprofit | Service Businesses
It's World Password Day! Now is the perfect time to take inventory of your passwords and see how well you're protecting your online data. Today's password standards might look a little different than what you'd expect. Keep reading on to discover password best practices that keep cyber threats at bay.
There is a big push to work remotely in the era of COVID-19. Working remotely is a great way to practice social distancing. There are also other benefits beyond today's health concerns, such as flexibility, space savings, time savings and minimizing distractions. There are several ways to enable people to work remotely. Some of them, like Microsoft Teams, can be implemented quickly and easily. However, when choosing a solution, security needs to be top of mind. Remote access can be the gateway to let an attacker in if not setup correctly and securely.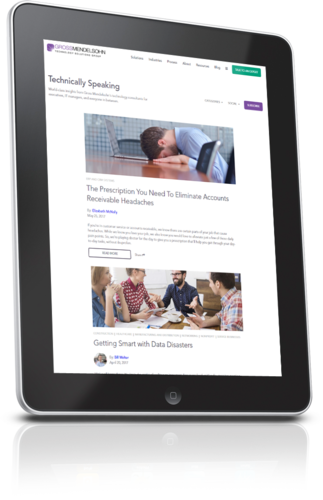 Subscribe To Our Blog
With your blog subscription, you'll get a free cyber security awareness guide for you and your team.
Windows Server 2003 has been around since, you guessed it, 2003. Since the release of Windows 2003 we have seen four major server versions released (2008, 2008 R2, 2012, and 2012 R2), each version improving on the last, with another major release ("Windows Server Next") due sometime in 2015. Windows Server 2003 has been a solid operating system, which is one of the reasons people are still using it. Even though the newer versions of Windows offer better performance, more capability and more scalability, the pain and upfront cost of a migration didn't seem worth it.
Cloud Productivity and Collaboration
Ever find that you get some weird things like Synchronization Log emails in your Unread Mail search folder in Outlook? Well, it's because by default that folder will look for any unread mail anywhere in your mailbox. Those Synchronization Log emails generally don't indicate an issue and definitely don't need to show up in the Unread Mail search folder.
In February, Avecto published a paper with the catchy title Microsoft Vulnerabilities Study: Mitigating Risk by Removing User Privileges. It advises what we've already been advising: don't use an admin account. Numbers Tell the Story But, what makes this report interesting is the numbers. 92% of all Microsoft critical vulnerabilities are mitigated by removing admin rights.
Removing your admin rights might be the best way to protect yourself from malware. But it means you'll need to use another account when you need to make system wide changes, install or update your application which can be a bit inconvenient. However, it's well worth it as your system will stay running better longer and your information will be safer. Follow these steps to remove admin rights on your personal computers. If you have a company computer, talk to your administrator about removing admin rights.