Cloud Productivity and Collaboration | Manufacturing & Distribution
As your manufacturing and/or distribution business grows, it's common to feel overwhelmed with increased orders and pressure from growing prospects. Today's business environment demands efficient, transparent and automated order fulfillment. It's what differentiates your business and creates loyal customers who buy more and become brand advocates. NetSuite Order Management enables you to meet and exceed rising customer expectations for quick, accurate order fulfillment, while profitably scaling your business. Let's explore how you can grow and organize your business with NetSuite Order Management.
It's no coincidence that the software that allows you to manage all key business functions has a strong appeal for marketers. With marketers in mind, NetSuite combines marketing, sales, service and accounting in one unified cloud platform, making it easy to get a real-time, 360-degree view of customers and prospects. In NetSuite, the data for all your sales and marketing functions reside within one database and does not require a single software integration. Most customer relationship management (CRM) and service systems, for example, require an integration with your accounting system - but that's not the case with NetSuite.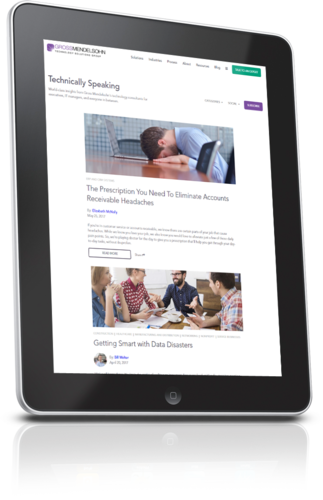 Subscribe To Our Blog
With your blog subscription, you'll get a free cyber security awareness guide for you and your team.
Cloud Productivity and Collaboration | ERP and CRM Systems
NetSuite's Fixed Assets Management provides you with the power to eliminate spreadsheets and manual effort from your company's asset and lease management processes. Today, I'm breaking down how easy it is to navigate this module in five simple steps. Let's jump in!
Construction & Real Estate | ERP and CRM Systems | Healthcare | Manufacturing & Distribution | Nonprofit | Service Businesses
There are a lot of reasons people land on our website looking for a new ERP system. More often than not, those organizations really just need a facelift for their existing software systems, rather than the whole song-and-dance of a new ERP implementation. Here are the top two cases where a new ERP system might not be necessary:
Construction & Real Estate | ERP and CRM Systems
According to a recent Maryland construction industry survey, the number one concern among construction company owners is finding and retaining good employees. So how can a project management software system help with that?
Construction & Real Estate | Networking
When selecting accounting or project management software for your construction company, there's a lot you have to consider. It can be difficult to figure out the right package that suits your needs. How do you choose the right one? If you're looking for something to simplify and expedite the daily processes in your construction company, we recommend looking at accounting systems that also have project management capabilities. Some popular software options can even offer both. Once you identify the software that's best for your company, you'll need to decide whether you're going to purchase or lease it, and where "it will live." Let's look at three typical options and the upsides of each.