As a seasoned consultant, I have zero tolerance for an ERP system that isn't helping you or your business. That's why it's essential to build the perfect ERP system that meets your needs from the get-go. How does that happen? Communication BEFORE the implementation process begins.
I see every new ERP implementation as a challenge to find the best possible solution. No matter how many times I install accounting software, I always learn something new. My favorite part of an ERP system implementation is gathering more knowledge to use and share. I am always learning and working with the latest technologies — you may not be aware of just how powerful an ERP system can be. Sometimes, I think I get more excited than the end users!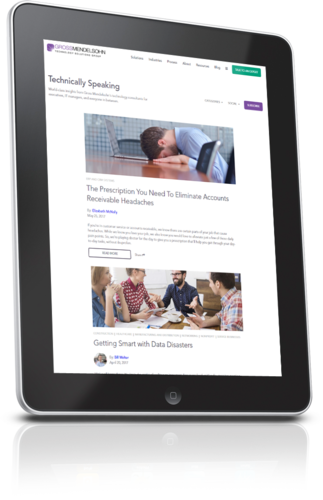 Subscribe To Our Blog
With your blog subscription, you'll get a free cyber security awareness guide for you and your team.
Manufacturers and distributors know how critical inventory management is. In fact, manufacturers and distributors who maintain proper inventory levels often enjoy increases in sales. Knowing how much inventory you have, how much you need for future sales and how to account for anomalies helps you plan for demand. Good demand planning solidifies how much product to manufacture, how much raw materials to keep on hand, and how much to ship to different locations. Likewise, distributors must forecast customer demand. All of that is easier said than done, but there are tools to help you sharpen your demand planning.
ERP and CRM Systems | Service Businesses
For thriving service companies, the right enterprise and business software can make all the difference between maintaining the status quo and scaling up to the next level. Progressive and innovative service companies are looking to create new business models that disrupt the status quo. Here's how they do it.
Cloud Productivity and Collaboration | Manufacturing & Distribution
As your manufacturing and/or distribution business grows, it's common to feel overwhelmed with increased orders and pressure from growing prospects. Today's business environment demands efficient, transparent and automated order fulfillment. It's what differentiates your business and creates loyal customers who buy more and become brand advocates. NetSuite Order Management enables you to meet and exceed rising customer expectations for quick, accurate order fulfillment, while profitably scaling your business. Let's explore how you can grow and organize your business with NetSuite Order Management.
It's no coincidence that the software that allows you to manage all key business functions has a strong appeal for marketers. With marketers in mind, NetSuite combines marketing, sales, service and accounting in one unified cloud platform, making it easy to get a real-time, 360-degree view of customers and prospects. In NetSuite, the data for all your sales and marketing functions reside within one database and does not require a single software integration. Most customer relationship management (CRM) and service systems, for example, require an integration with your accounting system - but that's not the case with NetSuite.