When a business has employees who work remotely in any capacity, network access and communication between employees and customers becomes even more essential. As more businesses acclimate to a remote setup, it's important to make sure you're fully maximizing the productivity of your workforce.
Construction & Real Estate | Cyber Security | Government Contractors | Healthcare | Manufacturing & Distribution | Networking | Nonprofit | Service Businesses
Another malicious cyber attack was reported just before the July 4 holiday weekend. This one hit close to home here at Gross Mendelsohn. Before I go into the details, rest assured that we were not affected. This massive ransomware attack is one of many recent incidents that provides further proof that every business needs to take cyber security seriously, and put measures into place to prevent a disastrous attack.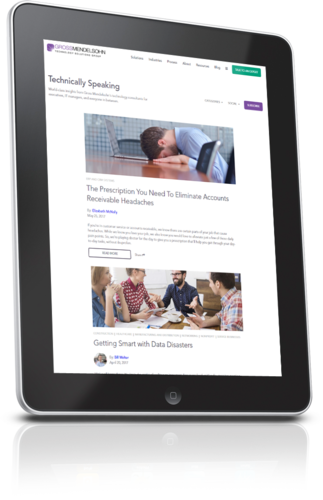 Subscribe To Our Blog
With your blog subscription, you'll get a free cyber security awareness guide for you and your team.
Cyber Security | Government Contractors
Cyber security breaches are on the rise and there's no clear end in sight. Breaches today are affecting businesses of all shapes, colors and sizes. Government contractors in particular are under increased pressure to demonstrate the cyber security measures they have in place. That's because government contractors who fail to meet cyber security requirements will be ineligible for certain contracts.
Cloud Productivity and Collaboration
Cloud hosting is all the rage. Chances are, some aspect of your organization's technology lives in the cloud. But what does "cloud hosting" mean, and what do you need to know to evaluate whether it's a good option for your business? One popular cloud host got some unwanted attention recently when they booted a social media platform whose conservative leanings were not to their liking. The social media platform went offline abruptly and scrambled to find a new host. This caused a media stir amidst the trend of "cancel culture" and prompted many business owners to ask, "Could that happen to me?"
If you haven't heard the news, there is a major zero-day exploit quickly spanning the globe. A zero-day exploit is an advanced cyber attack that exposes a vulnerability in software/hardware, which can create a series of complications before it is detected. Until the vulnerability is remediated, hackers can exploit it affecting your data and network. The most recent exploit is targeting local installations of Microsoft Exchange. Once attackers find a vulnerable Exchange server, they gain a foothold on that server and attempt to mine your data.
Healthcare organizations are in a global state of emergency - not only due to the pandemic, but because hackers are targeting their cyber security shortcomings. Numerous studies show that the healthcare industry is the biggest target for hackers. Organizations that fall victim to a cyber attack could face hefty fines and significant reputation damage. Not only that, but your patient data could also be compromised, putting their information in the hands of a malicious hacker. I recently partnered with my colleague Steve Rutkovitz from Choice Cybersecurity to identify the current threats healthcare organizations are facing and how to minimize the risk of an attack in the future. Let's jump in and explore the five-step process for how to take your HIPAA security to the next level and achieve true cyber health.