ERP and CRM Systems | Manufacturing & Distribution
Balancing supply and demand in your manufacturing or distribution business is a delicate process. Both an art and a science, good supply planning ensures that your business has the right combination of cost control, lead times and service level. Supply planning and demand planning go arm in arm in the manufacturing and distribution industry. Supply planning is part of supply chain management and helps determine how to best fulfill the requirements outlined in your demand plan.
With any update to your ERP system, it's important to understand how to take full advantage of new capabilities. You may have noticed that each new release of Sage 300 features new web screens. But you might still be wondering what web screens are and how they're useful to you.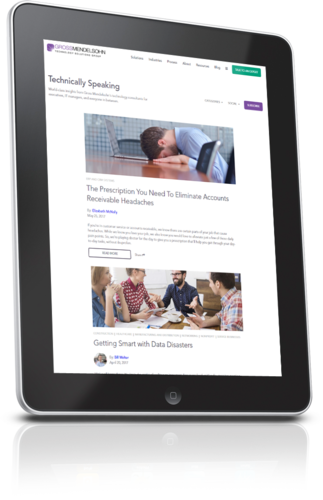 Subscribe To Our Blog
With your blog subscription, you'll get a free cyber security awareness guide for you and your team.
ERP and CRM Systems | Nonprofit
Accurately assessing and reporting the results of your work is critical to determining your nonprofit's impact. How else can you tell if funding is being used appropriately or if your organization is accomplishing its goals? Clear methods of gathering and analyzing program outcomes are a must-have to legitimize your organization and its cause. You want to convey your efforts in a way that shows not only your organization's purpose, but its worth.
When thinking about anti-malware products, most people think Norton, McAfee, Webroot, Trend Micro and so on, but not too many people think of WatchGuard. Don't they just make firewalls? Actually, that's no longer the case. For years, WatchGuard has had anti-malware software that talks to the firewall, known as Threat Detection and Response (TDR). With TDR already in place, why would you also need Endpoint Protection Detection and Response (EPDR)? The truth is, EPDR could be the layer of protection that puts you ahead of sophisticated threats when other anti-malware measures miss the mark.
ERP and CRM Systems | Service Businesses
If you're in the service business industry, having real-time visibility and transparency in your finances is critical. As your business moves to the cloud, you may be wondering how you could streamline your billing process to make the experience seamless for your customers. With the move to a subscription economy, businesses need a way to generate invoices that accurately reflect pricing and consumption over a defined period.
What would be your first reaction if your business got hit with a ransomware attack? Many business owners would jump to pay the ransom, as it seems like the quickest and most painless way to get operations back to normal.