As the pace of change in business accelerates—especially for those still relying on aged, on-premise ERP systems—apparel, footwear and accessories (AFA) companies are struggling to keep up.
Coupled with the current state of labor shortages and issues with staff retention, your business needs to be up-to-speed on the latest industry best practices to ensure improvement and efficiency across all your processes.
NetSuite's cloud-based platform provides AFA businesses with the latest tools to keep your business on track to accomplish your goals despite roadblocks impacting the industry.
Challenges With Outdated Systems and Methods
As you strive to improve business performance and increase customer satisfaction in an increasingly competitive environment, you may be struggling with:
Metrics based on unreliable data
Ineffective inventory utilization
Difficulty expanding into multiple channels
Inefficient order processes and inaccuracies
Order orchestration and inventory visibility issues
Manual processes that cannot scale
AFA companies are concerned about the time and capital required to fix back-end systems to address these challenges. However, they realize that the ability to rapidly adapt and scale is critical to their success. What's needed is a solution that can accelerate your business with a modern architecture that requires little interruption.
Why NetSuite?
NetSuite's cloud-based solution delivers a unique set of processes, activities and systems specifically designed to meet the needs of businesses. Its customizable platform provides users with a strong foundation to transform their business with a pre-configured solution and methodology that includes proven:
Detailed workflows
Pre-configured functional roles
Dashboards
KPIs
The NetSuite "stairway for AFA" includes leading practices for AFA companies to meet business objectives and seamlessly grow and scale. Let's take a look at how NetSuite supports AFA companies and can help your business progress on the pathway to success.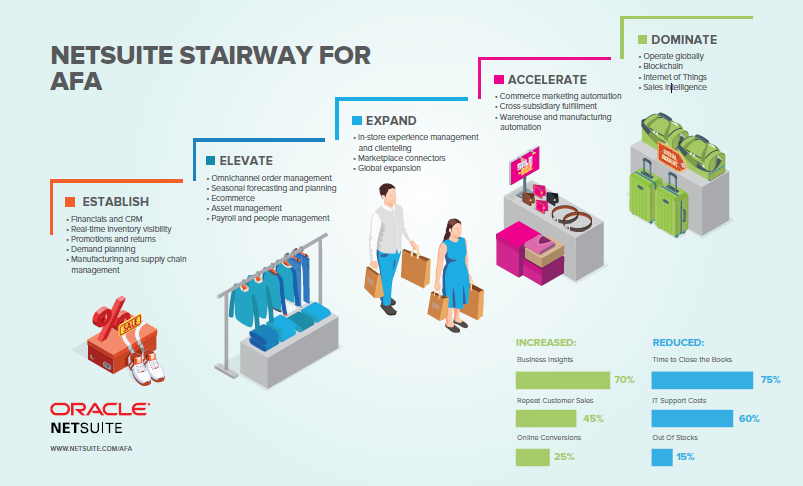 Proven Path to Success for AFA
Here's how NetSuite's phased pathway allows users to succeed and scale their business.
Manage All Areas of the Business on a Single Platform
NetSuite's unified cloud data model allows for a single view of financials, customers, orders, items and inventory. Getting a business on a real-time platform so all channels are operating from a unified base is the critical foundation AFA companies need to succeed.
Elevate Payment and Order Processes
Revenue streams are optimized with the addition of point of sale, ecommerce or other omnichannel capabilities to enhance and provide a greater customer experience. This phase is critical as buyers increasingly move online. According to the latest research, 30% of buyers complete at least half of their purchases online.
Opportunities to Expand, Innovate and Accelerate
With a solid platform in place, brands are freed from the overhead of an IT infrastructure and can begin to dream up innovative ways to engage the customer across all touchpoints using marketing automation, targeted email sends and loyalty programs.
Preparedness For Future Challenges
With a unified data model at the core of the business feeding a single view of accurate data across the entire enterprise, brands are equipped to handle industry disruptors and have the agility to prepare for whatever may be next.
Delivering Transformative Results
Gross Mendelsohn's team of experts will help guide you through the NetSuite implementation and deliver all the tools needed from day one so that anyone can get up and running quickly and successfully. Whatever the job function, the user interface comes pre-configured with all the KPIs, reminders, reports and value driven dashboards for the daily and strategic needs of AFA companies.
For reference, a study by SL Associates showed that AFA companies reported stunning improvements in key performance metrics after switching to NetSuite's cloud-based software solution.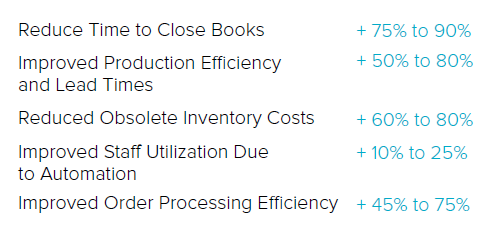 If you're ready to get started on the pathway to success, our team is ready to help advance your AFA business with NetSuite.
Need Help?
If you'd like to learn whether NetSuite could be a fit for your business, contact us online or give us a call at 410.685.5512 to schedule a demo.
Published
December 22, 2021