ERP and CRM Systems | Service Businesses
Although inventory plays a different role than in other industries, it is no less significant to running your service business. The quality of your services and the satisfaction of your customers depend on the materials your business uses to get the job done. That is why properly managing your inventory is imperative.
With any update to your ERP system, it's important to understand how to take full advantage of new capabilities. You may have noticed that each new release of Sage 300 features new web screens. But you might still be wondering what web screens are and how they're useful to you.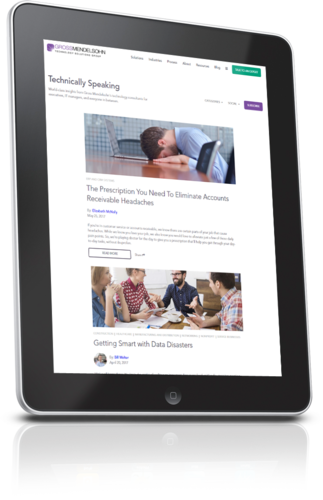 Subscribe To Our Blog
With your blog subscription, you'll get a free cyber security awareness guide for you and your team.
ERP and CRM Systems | Nonprofit
Accurately assessing and reporting the results of your work is critical to determining your nonprofit's impact. How else can you tell if funding is being used appropriately or if your organization is accomplishing its goals? Clear methods of gathering and analyzing program outcomes are a must-have to legitimize your organization and its cause. You want to convey your efforts in a way that shows not only your organization's purpose, but its worth.
ERP and CRM Systems | Manufacturing & Distribution
On-premise legacy systems and tools, box store relationships and simple processes. For generations, companies in the wholesale distribution industry had everything they needed within their facilities and existing networks to keep things running and their businesses thriving. Not anymore. Simply put: wholesale distributors are at a crossroads, and it's time to make a decision. Continue with business as usual, or optimize your business with industry best practices.
ERP and CRM Systems | Service Businesses
With the globalization of business, you'll want a source of dependable revenue management to avoid economic mishaps in your service organization. Raise your hand if you use multiple spreadsheets to track financial data. You're not alone. In this day and age, revenue management can no longer live in spreadsheets.
Designing, manufacturing, distributing and selling a high-quality product doesn't happen by accident. It requires a company-wide commitment to enforce policies and standards. NetSuite's Quality Management solution is designed to help manufacturers deliver the highest-quality products with minimal overhead regardless of the size and complexity of business and product line. Specifically, NetSuite helps manufacturers define inspection plans, pass/fail criteria and collect results — all in real-time.