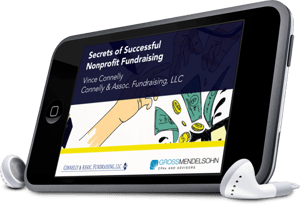 Today's fundraising challenges no longer simply encompass getting benefactors to open their wallets. In today's post-recession market, competition for limited donor funds has become fiercer than ever, as organizations seek to differentiate themselves from other local and national nonprofits fighting for the same resources.
The question is – what is the secret to nonprofit fundraising success? In this free on-demand webinar, nonprofit fundraising expert Vince Connelly covers what you must know to jump-start your organization's fundraising efforts starting right now!
In this webinar, you'll learn:
The number one way to secure large gifts and pledges and when (and when not) to ask for donations
The four essential elements of fundraising success
Where most gifts actually come from, and where they go
How a capital campaign works and why it's different than other types of fundraisin
Why a feasibility study could save you from campaign disaster … and more!
About the Presenter

Vince Connelly is the president of Connelly & Assoc. Fundraising, LLC, a consulting firm specializing in feasibility studies, and major gift and capital campaign coordination. Vince has over 30 years of experience working with nonprofit organizations in Baltimore and throughout the Mid-Atlantic region.