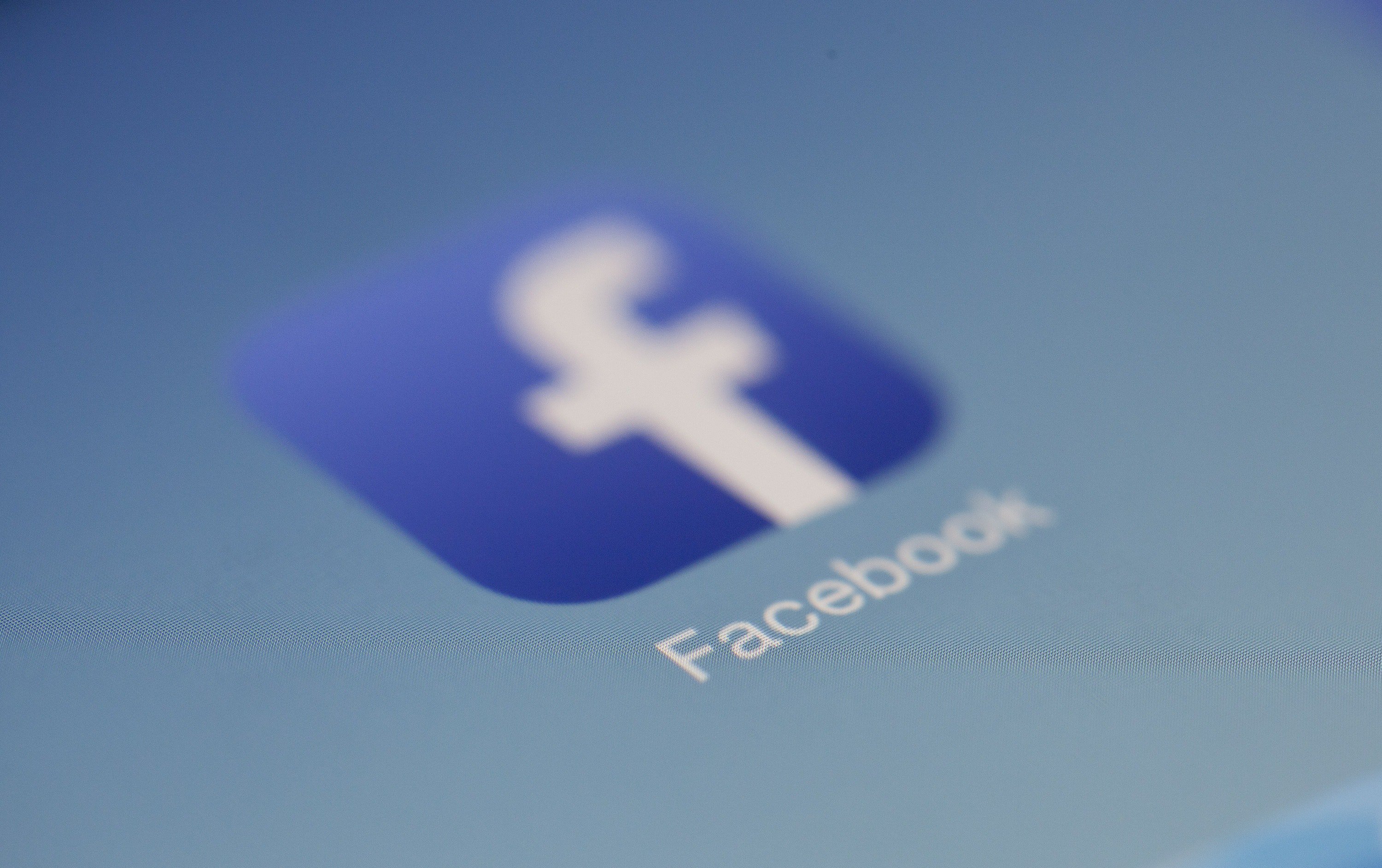 Subscribe
Why Every Construction Business Should Have a Facebook Page
There are plenty of reasons why contractors might not want to use social media to promote their business. Here are some of the objections we've heard from contractors.
It takes too much time to manage a social media account
It's too risky to put myself out there publicly
I worry about getting a bad review online
Social media is a fad. Why waste time on it?
First, let's just get this out of the way: social media isn't a fad. It's here to stay. If you are interested in getting found by customers and prospective employees, it's worth your time to use social media for your business. And it's worth the risk of getting a bad review.
We won't argue that the idea of setting up and managing a social media account for your business can sound overwhelming. But it doesn't have to be. There are so many social media platforms to choose from: Twitter, Instagram, Facebook, LinkedIn and many more.
We propose that you pick one social media platform for your construction business. The key is to manage that one social media page really well.
Our pick for construction contractors is Facebook.
Let's take a look at how your construction business can benefit from having a Facebook page.
1. It's Easy to Use, Even If You're Not Tech Savvy
Facebook is pretty intuitive. If you don't already use it for your business, you might be among the millions of Americans who use it personally, perhaps to share pictures of your children, pets or latest cooking creations. While a business page is a different format than your personal page, the principles of managing a business page are similar. If you know how to share your aunt's recipe for peanut butter fudge, you can manage a Facebook page for your business.
Even if you're not super savvy with technology, you can setup a business page in minutes and then build it over time. There are plenty of resources online that offer step-by-step instructions for setting up a Facebook page.
2. It's Visual: You Can Showcase Your Projects
When a prospective customer is looking for a home remodeling contractor to build her dream kitchen, they most likely hop online to look at pictures – pictures of rich cabinetry, granite counter tops, big islands with seating for four, farmhouse sinks, pendant lights and well, you get the idea.
As the saying goes, a picture is worth a thousand words. Sharing pictures of your latest projects, like a recent kitchen remodel, garage door installation, landscaping project or freshly painted home, is easy.
This home remodeling contractor uses before and after photos to showcase their projects: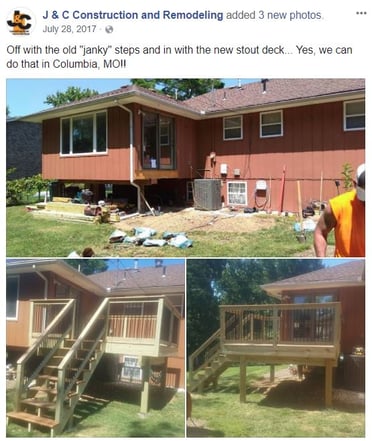 The same contractor gets bonus points for using video in addition to photos to give prospective customers a virtual tour of their projects: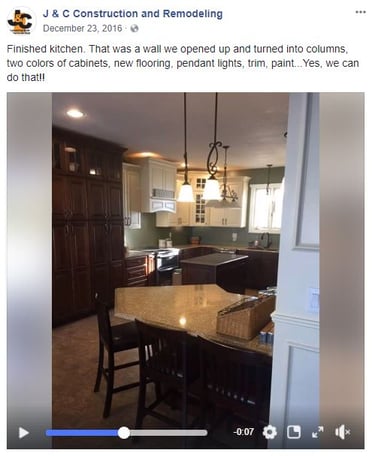 3. Your Customers Can Write Reviews (and You Can Respond to Them)
Customer reviews are powerful, especially in the construction industry. Thanks to some unscrupulous contractors out there, more than a few consumers have been burned and are leery about hiring contractors.
While there is always a risk of getting a bad review, you should ask customers to review your work on websites like Angie's List and Yelp. Facebook business pages allow customers to leave a review as well.
When a customer takes the time to review your work, be sure to thank them and acknowledge their review. A simple comment is all it takes: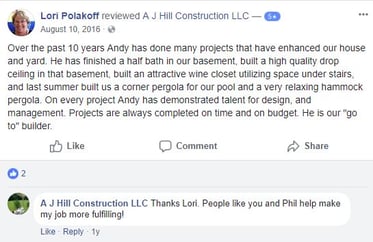 And, in the event you get a less than favorable to review, it's not the end of the world. Even though it's tempting to ignore a bad review as if it never happened, that's the worst thing you can do. There are ways to respond to a bad review about your construction company.
4. You Can Add a Face and Personality to Your Business
People do business with who they like and who they can relate to. What better way to attract customers and quality employees than to show your personality online?
Facebook, and other social media platforms for that matter, offers an easy way to put a face on your business and show what your business stands for.
This contractor shared some fun pictures from their holiday party and thanked their employees for a good year. This is the kind of thing that could make a potential employee say, "I'd like to work for a company like that."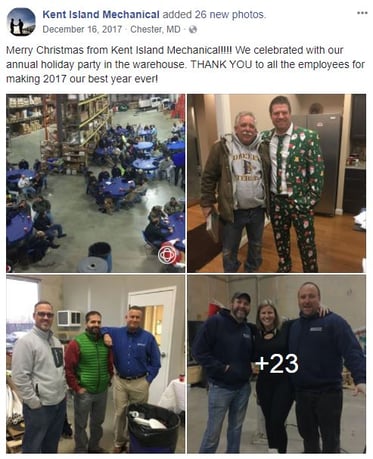 If you are struggling to find and keep good employees, as so many Maryland construction businesses are, this kind of post on Facebook can help make your business much more appealing than your competitor who doesn't have any kind of online presence.
Some businesses share their community service projects on their Facebook pages, as this contractor does: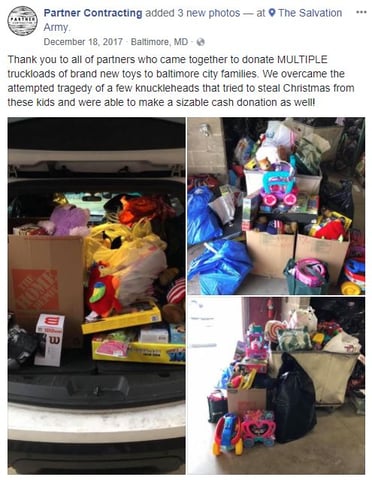 5. The Number of Your Customers and Employees Who Are Online is Growing
When people need information, they go online. Sure, they talk to people they know. They might ask their neighbor for the name of the contractor who built their deck. But chances are, they'll hop online to look for more information, like reviews from other customers, a Better Business Bureau rating and pictures of other decks.
If you are a business owner who didn't grow up in the age of the internet, remember this: a growing number of your prospective customers and employees have grown up in the internet age. You want to be where your target audience is: online, and a Facebook page for your business can get you there.
6. You Can Manage it From Any Mobile Device
It's easy to manage your company's Facebook page with your mobile device, whether you are out in the field or waiting for your child's baseball game to start.
7. It's Free
Building a website usually costs some money. Most of us have to rely on a website developer to create an effective website. But that's not the case with a Facebook page for your business. While it takes some time for you to create the page and manage it day to day, it's completely free.
While Facebook does offer advertising for businesses, it is well within your reach to have success with Facebook without any paid advertising.
The Next Steps
Once you build a Facebook page for your construction business, the worst thing you can possibly do is nothing. Be active on your page. Post pictures, respond to reviews and comments left by customers, and share helpful tips. For example, if you are an HVAC contractor, share tips for homeowners about how frequently filters should be changed, how often an HVAC system should be serviced, and how to keep an outdoor compressor unit clean.
This concrete contractor, for example, tells its customers how they can qualify for LEED credits by having a concrete parking lot: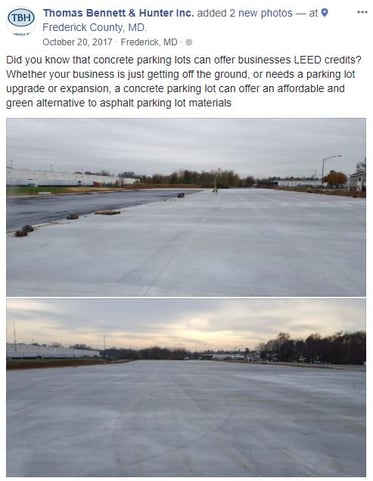 When you are busy serving customers, it's easy to forget about your company's Facebook page. We recommend assigning one person within your company to manage your Facebook page. That person should be a trusted employee who uses good judgement, knows your business fairly well, and uses good grammar and spelling. In addition to being responsible for posting content to your Facebook page, that person can get notifications from Facebook whenever someone leaves a comment or review, and respond quickly.
Need Help?
Contact us online or call 800.899.4623.
Published on April 10, 2018