Subscribe
Volunteering Together Makes Us Better Together
Just as sweet potatoes and pumpkin pie might be staples on your Thanksgiving table, community service days are staples for Gross Mendelsohn every autumn.
Individually, our staff members volunteer year-round for organizations they believe in (you'll see a sampling of them at the end of this blog post), but autumn is when we put our hearts and hands together as a team to help local nonprofits. It's an all-hands-on-deck kind of thing.
This year, we converged on Special Olympics Maryland's tennis tournament and the Maryland Food Bank to help make the local community stronger through service.
"Volunteering always reminds me of the vastness of needs in our community," says David Goldner, Gross Mendelsohn's managing partner. "Our firm is very much a member of the community. We have a part to play in making it better."
Highlights from Our Special Olympics Experience
Our staff spent the day helping out at Special Olympics Maryland's United Tennis tournament, serving as ball chasers and score keepers during matches, setting up and dismantling tables and chairs, and helping get the athletes to and from their assigned tennis courts at the right time.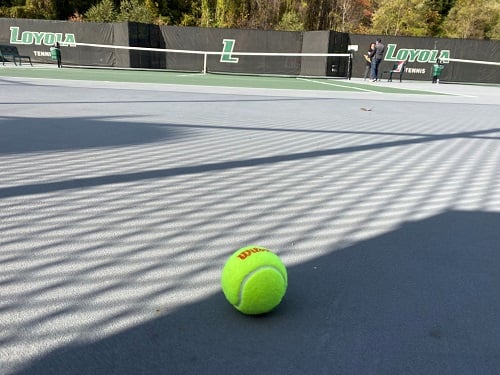 We had fun chasing So.Many.Tennis.Balls.
We had the pleasure of watching dozens of athletes, both experienced tennis players and novices, enjoy the game. The athletes displayed a high level of sportsmanship, perseverance and fortitude. They were a joy to watch.
The best part of the day for me, hands down, was placing medals around the necks of Special Olympics athletes as they stood on the podium at the end of the tennis tournament. It was a real honor.
Jonathan Lovell of our audit department added that he was taken by "the pure joy the kids had for being recognized for their accomplishment, regardless of what place they finished in."
I am pretty sure Steve Rostek high-fived every single athlete on their way to the podium. Steve seemed to feel as much joy celebrating the athletes as the kids had making their way to the medal stand.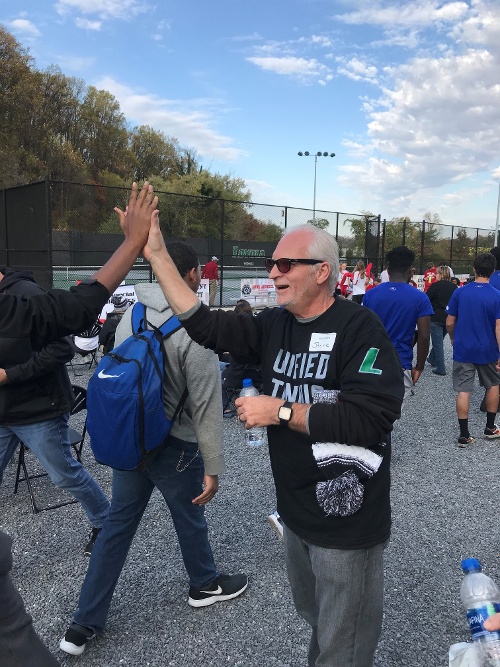 Steve Rostek cheered on every single Special Olympics athlete.
Sorting Food at the Maryland Food Bank Never Gets Old
We've been helping out at the Maryland Food Bank for years. Typically our time at the Food Bank involves sorting thousands of items into boxes that make their way to families in need. The goal of the sorting is to make sure each box is packed with a good balance of proteins, vegetables, fruits, starches and health items.
Our staff members enjoy the process of sorting and packing. For Rich Shank of our audit department, one unexpected discovery while volunteering at the Maryland Food Bank is that it's fun to sort and pack as countless items travel along the conveyor belt. He pointed out that the sorting process is a perfect job for detail oriented accountants.
Stephanie Menaker worked the conveyor belt at the Maryland Food Bank.
Can we pause for a bit of bragging? Our people are really good at sorting food. We have a track record of sorting and packing about 10,000 pounds of food in just four hours!
Josh Council of our audit staff said he came away from the experience at the Maryland Food Bank impressed by the impact that just a few hours of his time had on helping the nonprofit carry out its mission. He was surprised by the wide variety of items that pass through the Maryland Food Bank and into the hands of community members in need. For example, he didn't expect to see baby items and health products.
Volunteering Together Makes Us Better Together
No matter what kind of community projects we take on, we always come away from the experience stronger as a team. Staff members work alongside colleagues with whom they don't cross paths at all during the normal course of business. It's pretty neat to see bonds being formed over a food conveyor belt, seeing who can pack the most donation boxes the fastest, or racing to chase down rogue tennis balls.
Special thank you to Stephanie Menaker for organizing our community service projects. Visit the Special Olympics Maryland and Maryland Food Bank photo albums on our Facebook page to see more pictures from our time at the organizations.
Here is a just a sampling of the organizations our staff members give their time to:
Angel Park

Archbishop Curley High School

Associated Jewish Charities

Baltimore Reading Partners

Baltimore Youth Cycling

Banner Neighborhoods Community Corporation

Best Buddies

Beth Israel Congregation

Beth Tfiloh Camps

Beth Tfiloh Dahan Community School

Brooksfield Montessori School

Church of the Epiphany

Community Law In Action

Covenant of Grace

Edgewood High School

Elkridge Volunteer Fire Department

Elkridge-Harford Hunt Pony Club

FACETS

Girls on the Run

GoTeam Therapy Dogs

Gunpowder Valley Conservancy

Kirkwood Presbyterian Church

Liberty Christian School

Loyola University Maryland

Mann House

Medical Mission of Mercy, USA

Navy Safe Harbor Foundation

Northern Virginia Soccer League

Pets on Wheels

Reading Partners

Sinai Hospital

Special Olympics Maryland

St. Ursula Church

St. Ursula School

Stocks in the Future

Talmudical Academy of Baltimore

The Education Foundation of Baltimore County Public Schools

University of Baltimore

Walk MS Winchester National MS Society Virginia-West Virginia

Warrior Canine

Hot Meals Ministry

Wounded Warriors
Published on November 25, 2019