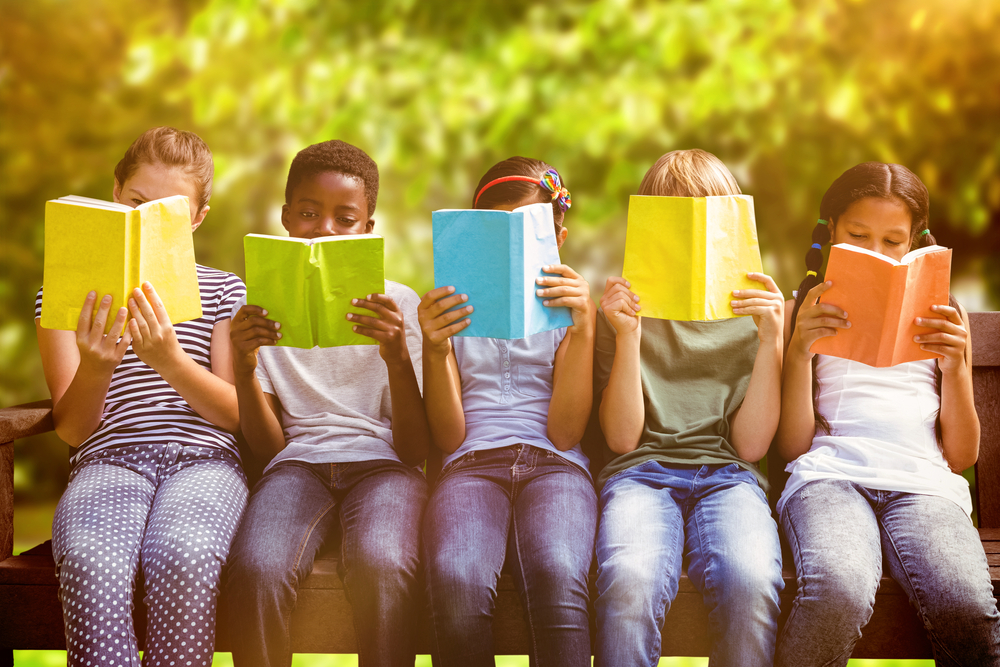 Subscribe
Lisa Johnson, CPA, Gets Inspired by Child Focused Nonprofits
With a passion for serving child-focused nonprofits, Lisa Johnson's enthusiasm for helping those organizations — both here at Gross Mendelsohn and in volunteer roles — is absolutely contagious.
I sat down with Lisa to learn more about her nonprofit experience, what energizes her as a volunteer and board member, and the advice she has for nonprofit executive directors. Here's a recap of my chat with Lisa.
As a partner at Gross Mendelsohn and a member of the firm's Nonprofit Group, Lisa Johnson has many nonprofit organizations as clients. She provides financial statement audits, employee benefit plan audits and guidance on internal controls, as well as advice on accounting, tax and operational matters.
But Lisa is also the first to step into volunteer roles at nonprofits. She sees great value in being on the other side of the table, outside her day-to-day role as an auditor. As a nonprofit board member and volunteer, Lisa gets even closer to the operational, programming and fundraising challenges that nonprofits face.
Lisa is the board chair for Richcroft, a Maryland nonprofit organization that supports individuals with developmental disabilities. She also serves on the audit committee of Alpha Chi Omega Fraternity. Lisa is a past board member and treasurer for Community Law in Action, a community-based nonprofit dedicated to developing young people into leaders. She has led several community service projects at our firm.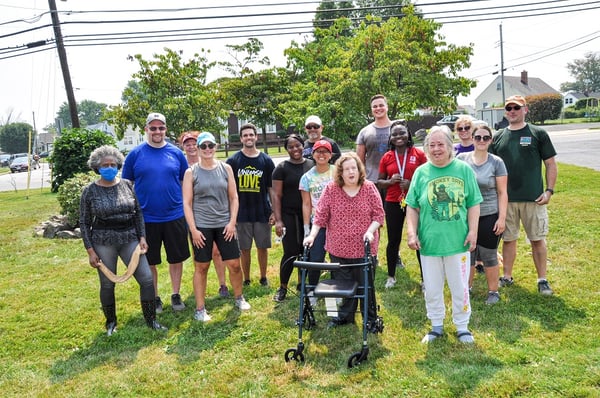 Lisa (third from left in front) and colleagues take on a volunteer landscaping project at Arc of Baltimore
---
Susan: Why do you volunteer?
Lisa: I have a skill set that's useful to nonprofits, especially those that lack the resources to have a CPA on staff. I've found that the skill set I've honed over the years as a CPA can make a positive difference in nonprofits. It's something I can easily give them, and it's rewarding to be able to see an impact.
From a business perspective, I've made excellent connections through my volunteer roles in nonprofits. As an auditor in a public accounting firm, it's extremely helpful to me to get an insider's perspective on the challenges nonprofits face. I can get that perspective as a board member or volunteer, in contrast to working with my clients, where it's usually from the point of view of an independent auditor.
Lisa talks more about why she volunteers:
Susan: Why do have you a particular fondness for working with child-focused nonprofits?
Lisa: Not to sound cliché, but children are our future. There's nothing more important than giving children a strong foundation and a nurturing environment. When you work with a child-focus nonprofit, it's pretty easy to see the huge impact of its mission.
Lisa explains her enthusiasm for child-focused nonprofits:
Susan: Lots of nonprofits have CPAs on their boards. How can nonprofits best utilize the skills of a CPA on the board?
Lisa: I think it's critical for nonprofits to have a CPA on their board. They should lean on that CPA for help with budgeting, advice on internal controls and best practices.
That CPA can also help fellow board members understand the organization's financial statements. Board members who don't have a financial background can, understandably, have a hard time discerning the organization's audited financial statements. As leaders and stewards of the organization, they need to understand the story behind the financial statements, and the CPA on the board can help tell that story.
Lisa explains why it's important for nonprofits to lean on a CPA:
Susan: The past couple of years presented unreal challenges for nonprofits. How did some of the organizations you're involved with innovate and still fulfill their mission?
Lisa: Several of my nonprofit clients have after-school programs for kids. They had to go virtual when the pandemic came along. One of my clients purchased laptops for the kids they serve and held virtual cooking and fitness classes, which became wildly popular. This is just one example of a nonprofit that managed to fulfill its mission of helping kids even when the pandemic threw a major monkey wrench into their established programs.
Nonprofits, quite frankly, are accustomed to pivoting and doing more with less. So when the pandemic came, many nonprofits adjusted fairly well. Seeing these organizations succeed during a difficult time was inspiring!
Susan: From the perspective of a board member/volunteer, what is one thing you want nonprofit executive directors to know?
Lisa: I want executive directors to know that onboarding board members is huge! Having some kind of onboarding process or orientation will help board members get acclimated to the organization more quickly and focused on its mission from the get-go.
When I recently joined a nonprofit's board, I came in right as they were about to do a board retreat. Attending the retreat gave me a lot of insight into the organization, its leadership, challenges and mission. This helped me get traction and contribute more quickly as a board member.
I'll add that setting expectations for board members is extremely important. Board members should understand how many meetings they are expected to attend and their role in fundraising.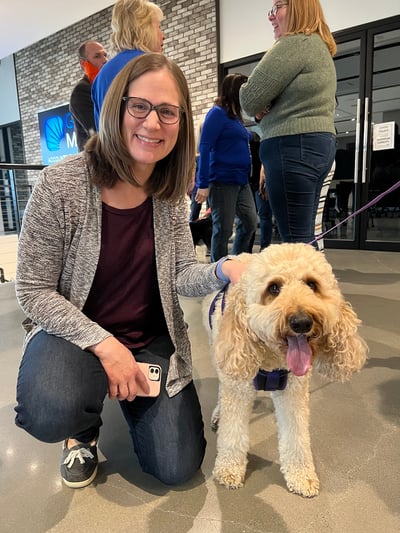 Lisa participates in a Pets on Wheels event
Susan: What is one thing you want them to know from the perspective of a CPA?
Lisa: As a CPA and auditor, I want executive directors to know how important the audit committee and board treasurer are. They need to be part of every nonprofit's governance. The CPA on the board can be an invaluable link between the board and the organization during its annual audit.
Susan: You recently took on the role of chair of Richcroft's board. What are some of your plans as chair?
Lisa: I'm so excited about this role! My first priority is to continue expanding the board by finding board members with the skill sets that are most needed.
We also plan to continue with fundraising, making sure that board members understand their role in fundraising and also finding innovative ways to raise money.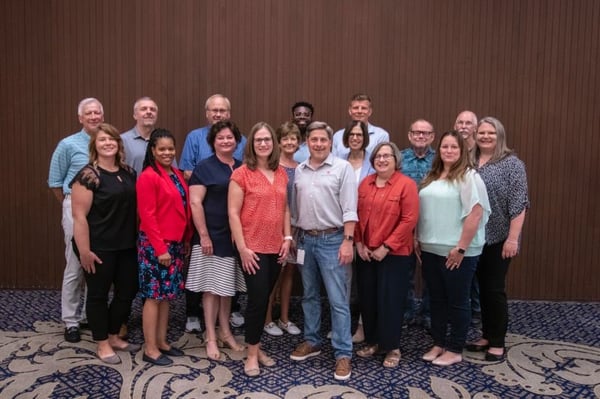 Lisa (fourth from left in front) is president of Richcroft's board of directors
Susan: What are some of the challenges of volunteering?
Lisa: Finding time is the big challenge. It's also challenging to find the right level of focus needed for each volunteer role and not letting yourself get spread too thin. I think it's important for nonprofit board members to be selective in the volunteer roles they choose. To make a difference, I believe you have to be both 100% engaged and sincerely passionate about the mission.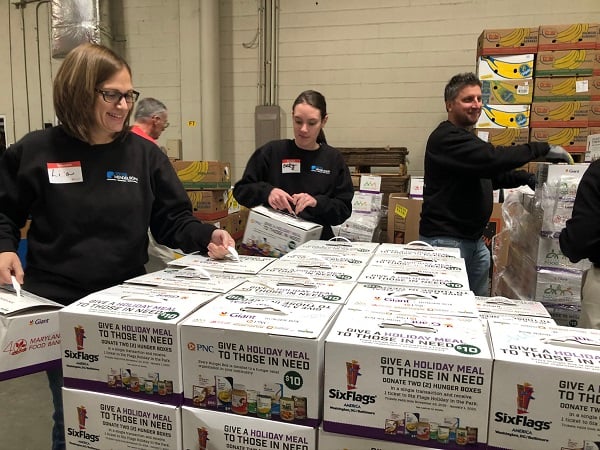 Lisa (left) and coworkers volunteer at the Maryland Food Bank
Susan: What are some of the best nonprofit fundraising ideas you've seen?
Lisa: Raffles and silent auctions are tried and true fundraising initiatives. I'm also seeing some of my nonprofit clients holding competitions, where teams of people compete to raise the most funds. The team approach seems to boost engagement.
Susan: Do your school-age children volunteer?
Lisa: Yes! They are starting to get exposed to volunteering. Both of my boys are active in sports, and were involved in a soccer initiative in Baltimore City. It was in a clinic setting, and they helped gather used sports equipment in advance to donate to kids. Their school also requires a certain number of community service hours, which I think is great!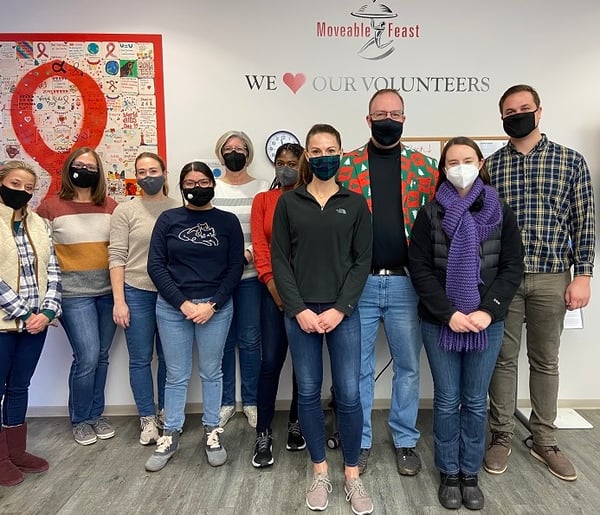 Lisa (second from left) and colleagues from Gross Mendelsohn team up with attorneys from Gordon Feinblatt to help out at Moveable Feast
Need Help?
For help with your nonprofit, contact us here or call 800.899.4623.
Published on August 24, 2022