Subscribe
Why Does Culture Matter at Construction Businesses?
Culture can make or break a construction business. It's not enough anymore to offer the lowest prices to customers or pay employees the most. Employees want to work for a business with a good culture. Not to mention, customers want to hire a business whose culture matches their personal values.
Don't believe us? We surveyed 150+ Maryland construction contractors in our 2019 Maryland Construction Industry Survey. Only 24% of those contractors said that they'd base their decision to leave a business on salary. Contrary to what most business owners think, salary is losing its spot as the most important thing to a current or potential employee. And with employee recruitment and retention being the biggest challenge among construction businesses, the need for an attractive culture couldn't be greater.
What is Business Culture?
Business culture is the values of a business that make employees want to work for and customers want to work with that business. Good or bad culture can help or hurt your relationships with potential and current employees as well as customers.
Employee and customer behavior is changing. It used to be that employees stayed at a business for their entire career. That's changed in the past decade or so. Younger employees want to work for a business that matches their values, and they'll move from business to business to find a good fit. Likewise, customers want to work with businesses whose culture resonates with them on a personal level.
How to Start Improving Business Culture
It can be hard to evaluate your business's culture. Most culture is unspoken. For example, if the boss works ten-hour days, most likely his or her employees do the same. Employees aren't told to put in a ten-hour day. It's not part of their training or in the employee manual. It's just an unspoken "rule." This is culture in a nutshell.
When you're looking to evaluate or improve your business's culture, first start asking yourself questions like:
What are our business's values?
How would a current employee describe the workplace to a potential employee?
What makes us proud to work at this business?
What's something we don't like about our office environment that we would like to change?
These questions will help your business get a better idea of the current state of your business's culture. Once you know where your business stands, you're better able to make adjustments that attract employees and customers.
For example, maybe your leadership team decides that you are proud of your business's rate of internal promotions. Take that pride point and pull values from it like: leadership, accountability and quality. Then make it your mission to instill that value in your team by offering leadership training seminars every year or hosting a company BBQ when your team meets its yearly sales quota.
Businesses with Good Culture
Southwest Airlines
Let's look at one of the culture champions of the corporate world: Southwest Airlines. Southwest has a culture of heart, which means not taking themselves too seriously and being famous for friendly service. That's why they often make headlines, like when they flew a forgotten bridesmaid dress from Houston to Costa Rica just because it was a nice thing to do. By committing to a friendly culture, Southwest has created a business were employees want to work and customers are loyal to the brand.
REI
A few years back, REI decided they would no longer be opening on Black Friday. This sent a shockwave through the media. A retail store that wasn't opening on the busiest retail day of the year? Crazy! The reason REI gave was culture based. They wanted their employees to have time to go outside.
REI's culture (and business for that matter) is framed by the love of the outdoors. That's why REI offers benefits like "Yay Days," two paid days off a year for employees to get outside. This culture fosters an environment where employees want to work. That could explain why the company has been voted a top workplace in the United States for the past 20 years.
Gross, Mendelsohn & Associates
A little closer to home, our firm is dedicated to maintaining our top-notch culture. We're a team of professionals who don't take ourselves too seriously. Our people are passionate about what they do, and we pride ourselves on internal growth. Here are just a few ways we commit to good culture:
A leadership and mentorship program for all staff

Our annual community service days

A women's initiative

Transparency from leadership
These things help us find and retain superstar employees. In fact, our employee retention rate is much lower than other similarly sized CPA firms.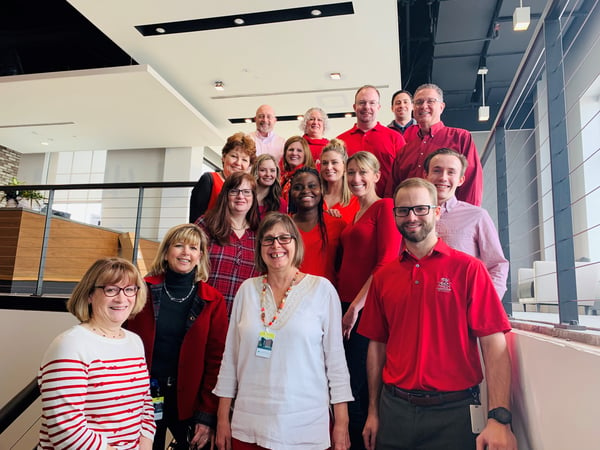 Gross Mendelsohn employees pose for a photo
while wearing red to raise awareness for American Heart Month.
Get Data on the Maryland Construction Industry
We surveyed 150+ Maryland construction contractors as part of our 2019 Maryland Construction Industry Survey. Get data on human resources trends and more in your free copy of our executive summary of the survey results.
Need Help?
Contact us online or call 800.899.4623 to discuss your construction business.
Published on May 28, 2019