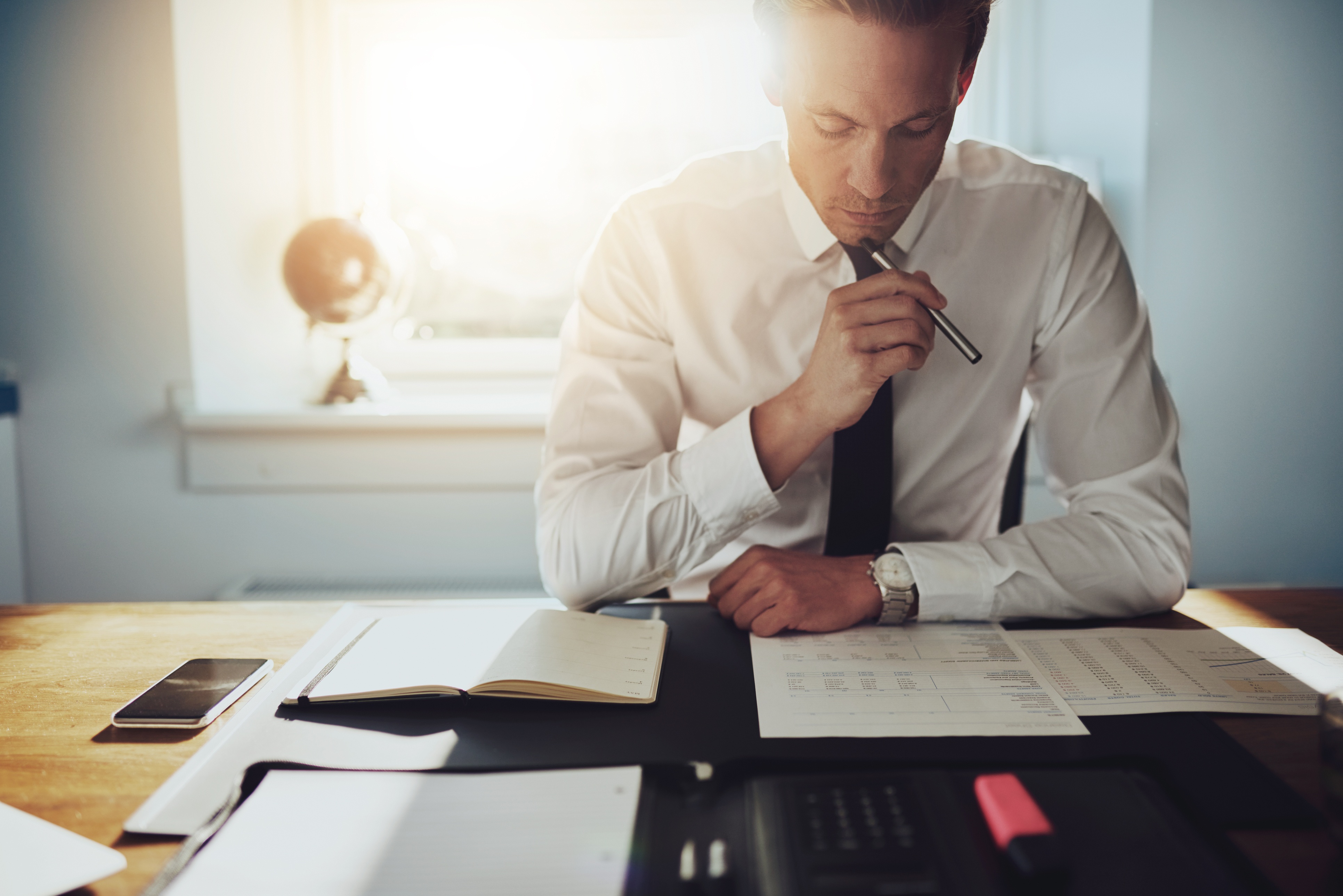 Subscribe
5 Ways A Financial Expert Can Make Your Divorce Case Stronger
Forensics & Litigation Support
I hear it from family law attorneys frequently: "My client doesn't own a business, so I really don't need a financial expert for this case."
In cases where one or both parties own a business, it's a no brainer to work with a Certified Valuation Analyst. But even when neither party owns a business, a qualified financial expert with experience handling complex financial issues can assist you in your divorce case.
Consider a few scenarios where a financial expert could help support your case:
How many times have you analyzed various spousal support payments and used a generic tax rate to determine the tax ramifications?
Wouldn't it be helpful to show the judge in clear terms the tax effect of the spousal support payments on both parties?
Would it be helpful to show the judge that a $1,000/month increase in spousal support would only result in an increase of $600/month in disposable income to your client?
Let's look at five ways that a financial expert can support family law attorneys throughout the divorce process.
1. Coordinate Financial Information
In many divorces, one of the most difficult challenges can be gathering financial information, especially when one spouse is more knowledgeable about the finances and investments than the other spouse. Your client might only have a basic knowledge about the family's finances and may need help understanding their current financial picture.
A good financial expert can help attorneys gather, understand, and organize the financial information received from your client, and ultimately help paint a financial landscape of the couple.
2. Prepare Financial Statement for Client
Pursuant to Maryland Rule 9-202, both parties might be required to file a financial statement based on monthly income and expenses. A well prepared and accurate financial statement goes a long way to show the court whether a party's testimony is credible. As a result, you should be careful when preparing the financial statement.
Failure to accurately complete the financial statement may result in your client not receiving the support they are requesting. In addition, it may leave your client vulnerable to attack during cross examination. For example, if the financial statement states that your client spends $200 a month on vacations, but the supporting documents show that the amount spent was substantially less, the opposing side will have the opportunity to show that the financial statement, which was filed under the penalties of perjury, is full of erroneous figures and that your client's testimony should not be believed.
In addition to helping clients prepare their financial statement, we have also examined the opposing side's financial statement. In one instance, we identified numerous mathematical errors, as well as inflated expenses, in the wife's financial statement. This information was great ammunition for the husband's attorney to reach a settlement and avoid a costly trial.
3. Uncover Hidden Assets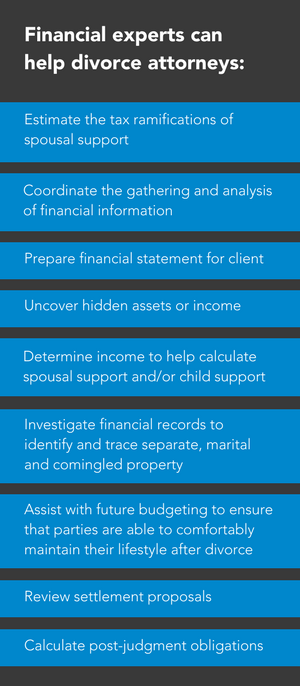 When a spouse manipulates income, a forensic accountant can review financial documents and accounts to establish a trail of assets, which may identify hidden assets.
Many clients are convinced that their spouse is hiding assets. There are several behaviors that raise red flags as to the possible existence of hidden assets, including when one spouse:
Has exclusive control of all the financial accounts
Intentionally provides incomplete responses to inquiries and discovery requests
Lives a lifestyle in excess of reported income
Has a sudden decline in income
Makes large transfers or payments from bank accounts
4. Income Determination
In addition to hiding assets, many spouses will under report income on tax returns and/or financial statements in the year or years preceding a divorce.
Because of this lower income, the amount of spousal support and/or child support might be lower than what your client is entitled to receive.
Determining a spouse's income is not always an easy task. It gets even more complicated when one or both of the spouses owns a business. When one spouse owns and controls a business, there is considerable opportunity for them to intermingle business and personal expenses. In addition, they may have created various income streams that the other spouse might not be aware of.
A financial expert with forensic accounting experience can review financial data and accounts to help you determine a spouse's income.
5. Calculate Post-Judgment Obligations
In some divorces, there are certain assets where division is deferred until some future event. For example, one party might get a percentage of the gain if an asset is sold within five years of the divorce.
Some property settlement agreements contain clauses that require recalculation of spousal support and/or child support on an annual basis due to unique circumstances.
Having a financial expert assist in these post-judgment (or post-settlement) obligations can go a long way if the parties end up back in court.
We assisted one client in calculating spousal support and child support pursuant to his property settlement agreement. The client received a K-1, which detailed his income and the amount of distributions. He was also entitled to various reductions for mandatory business expenses pursuant to case law. His wife's expert, however, did not take into account these reductions, and we were able to save him a considerable amount in spousal support and child support.
Need a Financial Expert to Help Support Your Case?
Even when a business valuation isn't needed in your divorce case, a financial expert can be an extremely useful member of your team. They will work in close collaboration with you to create a successful financial result for your client.
Our Forensics & Litigation Support Group can help. Contact us online or call us at 800.899.4623.
Published on December 19, 2017