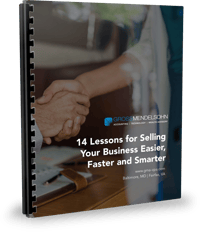 If the time has come for you to sell your business – regardless of reason – you'll want to get the make the transition as smooth as possible, as well as lucrative as possible.
This free whitepaper reveals 14 lessons that we've learned as CPAs, business advisors and valuation experts that will make you better able to sell your business easier and faster. Inside you'll get critical lessons on:
Why being decisive is critical to a quick and easy transition
How to recast financial records
Why you need to be diligent and selective about the buyer
Putting together the right team of trusted advisors
Tax issues you'll be facing
Why confidentiality is important and how to main it
You'll also get our valuable "Pre-sale To Do List" and special guidance for helping you get your documentation ready.