When thinking about anti-malware products, most people think Norton, McAfee, Webroot, Trend Micro and so on, but not too many people think of WatchGuard. Don't they just make firewalls? Actually, that's no longer the case. For years, WatchGuard has had anti-malware software that talks to the firewall, known as Threat Detection and Response (TDR). With TDR already in place, why would you also need Endpoint Protection Detection and Response (EPDR)? The truth is, EPDR could be the layer of protection that puts you ahead of sophisticated threats when other anti-malware measures miss the mark.
ERP and CRM Systems | Service Businesses
If you're in the service business industry, having real-time visibility and transparency in your finances is critical. As your business moves to the cloud, you may be wondering how you could streamline your billing process to make the experience seamless for your customers. With the move to a subscription economy, businesses need a way to generate invoices that accurately reflect pricing and consumption over a defined period.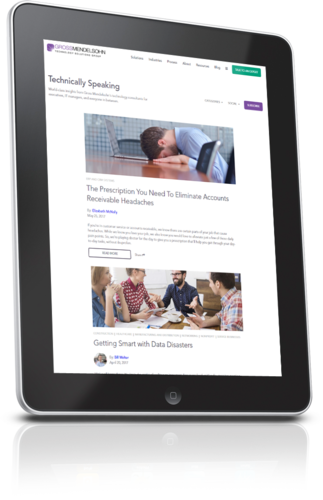 Subscribe To Our Blog
With your blog subscription, you'll get a free cyber security awareness guide for you and your team.
What would be your first reaction if your business got hit with a ransomware attack? Many business owners would jump to pay the ransom, as it seems like the quickest and most painless way to get operations back to normal.
ERP and CRM Systems | Manufacturing & Distribution
If you're a manufacturer or wholesale distributor, you're most likely looking to increase labor productivity, reduce handling time and optimize space utilization. This can be a daunting task unless you have a tool in place that gives you a 360-degree view of your warehouse operations. NetSuite's Warehouse Management System (WMS) optimizes day-to-day warehouse operations using industry leading best practices — including intelligent pick and pack processes, handheld barcode scanning, cycle counting and integration with shipping systems — to run your warehouse more efficiently and minimize handling costs.
ERP and CRM Systems | Nonprofit
Finance and fundraising departments meet and greet at each transaction. Fundraising connects the transaction to an organization, a household or an individual—and further—needs to track and report on marketing data associated with the transaction. Fundraisers need to make sure that their campaigns for programs are well-funded. Accounting manages each transaction from both a revenue and expense perspective. Having constituent management and accounting within the same technology will unite these two departments and ensure the long-term success of a nonprofit's mission. But where should you turn to bridge the gaps between finance and fundraising to prepare your organization's meaningful work for lift-off?
Cloud Productivity and Collaboration | Networking
Adopting a new technology tool can sometimes feel like more trouble than it's worth because of the steep learning curve. It'd be nice if everything you already knew how to use was simply ushered into the next tool. You're used to current workflows, but you can't completely forgo the efficiencies that come with the latest in cloud technologies, especially when growing your business. Luckily, Microsoft Windows 365 combines the power and security of the cloud with the versatility and simplicity of the PC.