With the number of cyber threats targeting your business, cyber security should always be top of mind. With hackers changing their methods so frequently, how can you keep up? Even though cyber attacks are getting more sophisticated, there are a few shockingly effortless ways to keep up on cyber security. In fact, even your grandma can handle these cyber security tactics.
As businesses put more funds into cyber security at the office, hackers have redirected their efforts to easier targets: you, your family and your home. Cyber threats don't look the same way they used to. The rule of thumb used to be installing virus protection on your computer, or getting a virus-protected Mac to ward off cyber threats. If you think your firewall will protect you, or that your Mac can't get a virus, here's the scary truth: you could already be compromised. Here's the rub when it comes to cyber threats at home and what you need to do to prevent you and your family from becoming a target.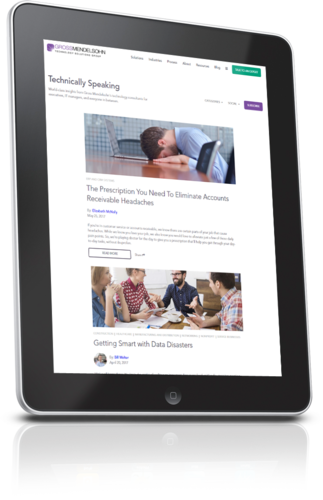 Subscribe To Our Blog
With your blog subscription, you'll get a free cyber security awareness guide for you and your team.
Construction & Real Estate | Healthcare | Manufacturing & Distribution | Networking | Nonprofit | Service Businesses
There are a few recurring IT issues that plague even the most savvy computer users. We're dedicating this blog post to those users who are diligent when it comes to technology and cyber security, but need a quick fix to get out of a common problem. We're revealing the five most common questions our help desk gets, and how we address them for clients.
Business Intelligence and Reporting
Why doesn't your banking dashboard show your daily calorie count? Sure, you might like to know how many calories you've consumed so far, but that's better suited for your health and fitness apps rather than your online bank account's home screen. The same principles apply to your business intelligence dashboard. We are constantly distracted by incoming emails, new information from various departments, and perhaps your chatty officemate. Your business intelligence dashboard should be a distraction-free interface that focuses only on the information that's relevant to you. Using tools like Sage Enterprise Intelligence, you can set up specific key performance indicators (KPIs) to appear on your dashboard, which will help you with your day-to-day tasks.
There's the old saying that "if it ain't broke, don't fix it." While there is some merit to that philosophy, it doesn't hold true with technology. When your business relies on all sorts of technology tools for efficiency, productivity, customer service, and so much more, IT is not something to ignore or skimp on. The truth is, there are subtle (and no-so-subtle) signs that your IT system might be failing, or worse, jeopardizing your business's cyber security. While we certainly don't advocate for spending money on unnecessary technology, there are some clear indicators that point to a need to upgrade your IT system. The technology in your business is outdated if …
Construction & Real Estate | Healthcare | Manufacturing & Distribution | Networking | Nonprofit | Service Businesses
Adjusting your spam filter to the right level of sensitivity is one of the most important steps you can take to defend your network from harmful email malware. However, it's easy to miss an important email if you set your sensitivity too high.