Subscribe
What Healthcare Organizations Can Expect From PointClickCare in 2019
ERP and CRM Systems | Healthcare
PointClickCare has done a lot of research in the long-term care industry. What trends did they see in 2018 and what are their predictions for 2019?
All of their research was shared at PointClickCare's annual summit in Nashville, TN, and I got to experience it firsthand with my colleagues Jennifer Rock and Debby Spear.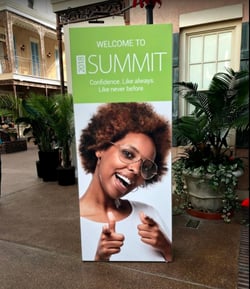 PointClickCare is cloud-based clinical and financial software designed for skilled nursing facilities, senior living communities, home healthcare agencies, and continuing care retirement communities (CCRC). Summit is the annual event where PointClickCare unveils new software capabilities and discusses new healthcare trends for long-term care providers.
This year, summit had record attendance with over 2,000+ attendees. Gross Mendelsohn's Technology Solutions Group recently became a PointClickCare authorized partner, so this was an excellent educational experience for our team. The conference included welcome sessions, where we heard from the founders of PointClickCare, Mike Wessinger and Dave Wessinger, about how PointClickCare was founded, what they're focusing on in the future, and what they expect out of the industry. I was lucky enough to meet Dave and Mike when I won a whiskey tasting at one of the summit-sponsored events. Not only was I able to take a selfie with them, but I also found out they are seriously down to earth people!
At the whiskey tasting, I met a few other people who work for PointClickCare. So many people I talked to enjoyed working with the company. I even met a retired couple that boasted how great it was to work with the team at PointClickCare. Even though they're retired, they still attend the PointClickCare summit. No wonder PointClickCare earned the #2 place to work with Glassdoor!
Let's talk about what senior care organizations can look forward to with PointClickCare.
Skilled Nursing Facilities
SNFs can look forward to the following changes to the PointClickCare platform:
Fresh PDPM reimbursement standards
Enhanced insights and analytics capabilities
New value programs initiative
The new Patient-Driven Payment Model (PDPM) was a focal point for several sessions at PointClickCare summit. Starting October 1, 2019, there will be several changes to PDPM that will impact how SNFs are reimbursed. At summit, PointClickCare showed off the following example that allows PointClickCare customers to view their own personal PDPM risk model. PointClickCare is also offering this helpful webinar to help facilities understand how they can start preparing for PDPM.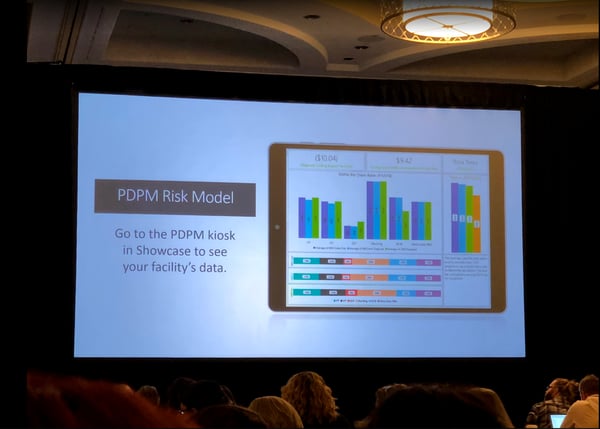 PointClickCare is also enhancing reporting tools to allow users to efficiently analyze and react to important trends. PointClickCare will be working diligently from now until April to deliver new reports and to allow customers to create their own enterprise-level reports.
PointClickCare debuted their new value programs' initiative where they target specific market problems that customers may be facing (such as readmissions or controlling DSOs to improve financial health) with specific products and consultation services attached to the program that address the issues. PointClickCare will continuously monitor users' performance improvement as they participate in the program. Discover more about the value initiatives here.
Senior Living
Travis Palmquist, vice president at PointClickCare, reported that the challenges facing the senior living industry include increased competition in the market, finding and retaining talent, evolving compliance requirements, and aging-in-place communities (PointClickCare blog).
PointClickCare is making major updates to their platform to accommodate these incoming challenges. They're collecting information on what drives revenue, and what users want to see, to integrate new features to CRM, document manager, occupancy tracking, statement creation, and billing/collections modules. The newest features they announced for 2019 improve medication management functionality (PointClickCare blog).
Home Health
Home healthcare is increasingly popular and has become a focus for PointClickCare in 2019. PointClickCare reported that home health is the largest provider of long-term care. Nine million people received long-term care in 2014. By 2025, 1.3 million more people will need home health services (PointClickCare blog).
What's Next?
In addition to creating enhancements that address these challenges, PointClickCare is also unveiling a new Apple workflow integration and enhanced reporting capabilities across the board.
For questions on how you can take advantage of these new features, contact our team here or call us at 410.685.5512.