If you're a manufacturer or wholesale distributor, you're most likely looking to increase labor productivity, reduce handling time and optimize space utilization.
This can be a daunting task unless you have a tool in place that gives you a 360-degree view of your warehouse operations.
NetSuite's Warehouse Management System (WMS) optimizes day-to-day warehouse operations using industry leading best practices — including intelligent pick and pack processes, handheld barcode scanning, cycle counting and integration with shipping systems — to run your warehouse more efficiently and minimize handling costs.
NetSuite WMS guides users through important tasks, from receiving and storing items to picking and shipping them, in the most efficient way. As items are processed in the warehouse, each transaction entered is automatically updated in NetSuite inventory and reported in real-time. NetSuite WMS provides a variety of key functionalities to better manage inventory and warehouse operations.
Let's take a closer look at three key functionalities you can use to enhance your warehouse management.
1. Warehouse Set Up
The first key functionality is your warehouse set up. This is where you establish your warehouse layout in NetSuite. Once that's complete, you'll be able to set up and expand on the following features:
Item alias/multiple UPCs: Set up multiple UPC codes for items
Task management: Generate, prioritize and assign tasks to mobile users
Cycle count plans: Create templates for your company's most commonly generated cycle counts, run them on demand and assign them to mobile users
EDI/ASN support: Generate ASNs and related EDI transactions automatically
Unit of measurements: Transact in any unit of measurement (UOM) assigned to the item on the same transaction line
Custom menus: Create custom menus to replace native ones and add additional workflows and functionality
Codeless mobile customizations: Create customized WMS screens that meet the needs of your on-the-floor warehouse tasks easily, right from your mobile device
Mobile app: Increase productivity and accuracy by using the mobile app for receiving, picking and cycle counting; move between the NetSuite WMS app and other NetSuite mobile apps on the same device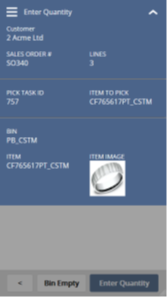 Increase labor productivity and reduce handling time with the mobile app.
2.

Guided Inventory Receiving and Putaway

Once you have set up your warehouse layout, your next step is to optimize receiving and putaway. This is where users get recommended bin locations using putaway rules. This functionality includes the following features:
Initial load of bin inventory: Automatically distribute inventory into bins by CSV import
Inbound reversal: Reverse received lines on purchase orders, including multiple lines across different purchase orders
Auto-populate lot expiry date: During receiving, have the system automatically populate the expiry date based on shelf life
Stage location transfers: Easily move items between staging locations
Inbound shipment management integration: Receive items using a mobile device and automatically update the associated order and inbound shipment transactions
Composite barcodes: Utilize GS1 and HIBC barcodes to facilitate the inbound, inventory and outbound processing
3. Optimized Pick, Pack and Ship
The final step is to optimize your organization's pick, pack and ship processes. This is where you'll establish rules to streamline your picking process and task assignment. You'll be able to do the following:
Strategy definition: Define pick and putaway strategies based on several criteria
Auto print item labels on receipt: Define labels and have them automatically generated during the receiving process
Hide expired lots: Optionally hide expired lots during the picking process
Multi-order picking: Pick items across multiple sales orders in a single session
Multi-order packing: Pack items across multiple sales orders in a single session
Pick by order type: Define order types to group orders during picking
Cross-docking: Direct users to pick inventory from an inbound staged location
Restrict order changes after picking: After an order line is processed, prevent changes to the line below the picked quantity
Pick reversal: Quickly reverse a picked transaction line
Staging picked orders: Stage orders after picking to a specified location
Fast processing: Support for up to 10,000 order lines per day per picking location
Wave release process: Create waves of orders based on specific filter criteria which can be released to the warehouse floor for picking and shipping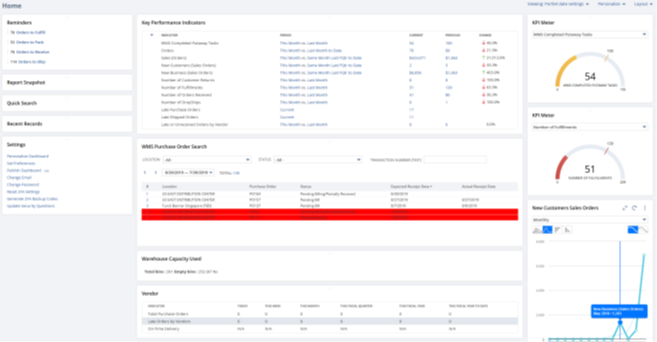 Role-based dashboards give users a real-time overview of warehouse operations. Pre-built KPIs, key metrics, reminders and shortcuts eliminate the time-consuming task of pulling reports manually.
Key Benefits
To recap, NetSuite's Warehouse Management System helps you:
Increase labor productivity
Improve order fill rates and fulfillment accuracy
Reduce handling time
Improve operational efficiency with the mobile app
Optimize space utilization
Real-time traceability of inventory movements and transactions
Need Help?
If you'd like to improve your order fill rates and fulfillment accuracy, contact us online or call 410.685.5512 to see a system like this in action.
Published
August 23, 2021