Efficiency is key to the success of small and rapidly growing organizations. With NetSuite, you can maintain that momentum with the ability to manage all aspects of your organization in a single system.
NetSuite SuiteSuccess Starter Edition is designed from a set of leading practices that pave a clear path to success and are proven to deliver rapid business value and get you live on NetSuite in a predictable timeframe.
You'll be up and running quickly with pre-configured KPIs, workflows, reminders, reports and value-driven dashboards for daily and strategic needs for all your key roles.
Below we'll explore how SuiteSuccess Starter Edition delivers success quickly and how NetSuite radically improves your current processes.
Leading Practices
SuiteSuccess Starter Edition delivers a unique set of processes, activities and systems specifically designed to deliver value and fit your organization's needs. It provides a strong foundation to transform your organization with a pre-configured solution and a proven methodology.
Built from experience in thousands of deployments, you'll experience an agile and phased approach while transforming your business to drive results. SuiteSuccess users can go live quickly with an intelligent staged approach to implementation via NetSuite's stairway. This approach allows you to consume capabilities based on your needs and drives faster time to value and better ROI.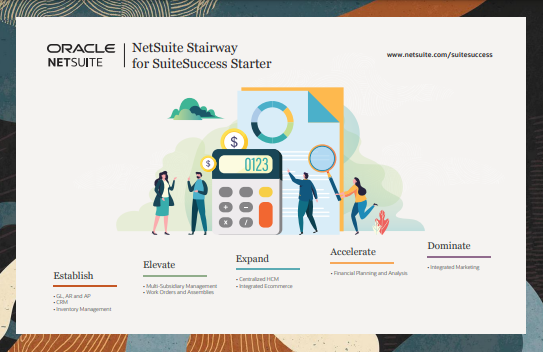 NetSuite leverages what they've learned from users across all industries and business of all sizes to deliver over 95 pre-built reports and pre-configured roles with dashboards and business intelligence metrics. This ensures success from implementation through support and beyond—spanning your entire lifecycle.
Key Benefits
Ready day one. The pre-configured solution delivers a unique set of processes and functionality specially designed for your organization.
Continuous engagement. Ensures success through a consultative approach from sales to activation, through support and beyond.
Go live quickly. The solution takes advantage of the NetSuite stairway—a staged approach to activation that allows customers to consume capabilities based on what the business needs and drives faster time to value and better ROI.
Visibility and insights. By unifying the front and back-office, NetSuite delivers a complete view of your customers, projects and business in real-time, combining data with visual analytics to generate meaningful and actionable insights.
Financial Management
Automate your accounting functions! The general ledger supports the unique structure and requirements of your business. A simplified chart of accounts structure organizes financial and statistical data.
Journal entries are created automatically and in real-time as transactions happen. You can easily create and update budgets, and bank and credit card statements can be automatically imported into NetSuite for reconciliation. The period close checklist makes closing the books fast and easy.
Item Management
Using item records in NetSuite allows for more efficient processing of transactions while reducing the likelihood of data entry errors. Item records hold the accounting information, pricing and attribution for all the goods and services you buy and sell to customers, along with the parts and raw materials you purchase from vendors. Item records are used to track information about items you keep in stock.
Sales Management
Streamline your sales process while helping your organization gain complete visibility without duplicating efforts. All processes are connected, from the creation of a lead to turning it into an opportunity through generating an estimate. Once a quote is accepted, you can generate the sales order directly from the estimate to ensure an accurate audit trail.
Order Management
NetSuite enables efficient order entry, item fulfillment and invoice processing, all within an integrated suite. Leverage sales orders to sell products and services to automate invoice creation and sales reporting. Quickly process returns, issue credit memos and apply credits to any open invoices.
Purchase Management
Streamline your procurement process while providing visibility, efficiency and effective purchasing controls in your organization. You can create and track purchase orders, maintain detailed records on all suppliers (including contacts, addresses, banking information, purchase orders, past payments and credit memos) and create vendor credits and issue refunds if needed. Invoices are matched to purchase orders and receiving statements to avoid overpayments, duplicate payments or other errors.
Project Management
Projects can be managed end-to-end within NetSuite. You can create a new project from a project template including phases, tasks and milestones with estimated hours.
You'll be able to track and resolve issues with real-time visibility across the project team, assign resources and track actual time against projects and project tasks. Expenses appear against the project, allowing for monitoring of project costs and invoicing of billable expenses.
The billing of projects can be automated using multiple billing rules including time and expense based, fixed date, milestone and percent complete. You can also run project reports like project profitability, project budget vs. actual and resource utilization.
Need Help?
If you're interested in SuiteSuccess Starter Edition to implement NetSuite and enhance your organizations processes, contact us online, give us a call at 410.685.5512 or click the link below to schedule your demo.