One of the most helpful features of NetSuite is SuiteAnswers. SuiteAnswers gives users the ability to easily find information while working within the NetSuite ERP application through a knowledgebase of support articles, help topics, training videos, SuiteWorld presentations and user guides.
This video provides an overview of SuiteAnswers in NetSuite and how to access a variety of available resources.



Let's explore how SuiteAnswers can enhance your NetSuite user experience.
Homepage and Keyword Search
The SuiteAnswers homepage includes an announcements section with some of the latest information from NetSuite. Below the announcements, you'll find sections for new release information, trending topics and new answers that have been added to the SuiteAnswers database.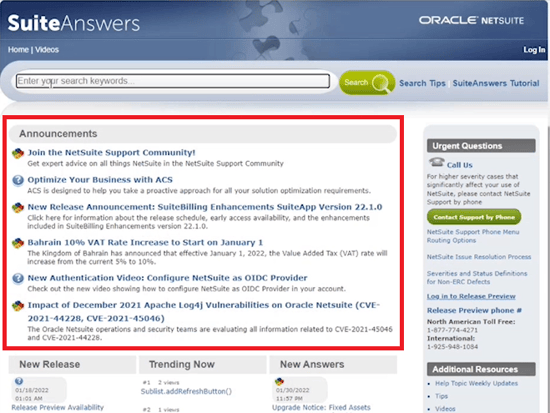 To search for a topic, you'll enter keywords related to the topic in the search bar at the top of the page. Keep in mind that this is a keyword search, not a natural language search, so you shouldn't enter a full-length question.
If you know the terminology NetSuite uses for a specific topic, make sure to use it in the keyword search. For example, NetSuite refers to an invoice from a vendor as a "vendor bill" as opposed to a "vendor invoice." If you are searching for a topic related to accounts payable, you'd use the keyword "bill."
Search Results
Once you enter your keyword(s), a list of relevant topics will populate. On the left-hand side of the screen, you'll see the number of results for support articles, videos, help topics and SuiteWorld presentations related to your topic.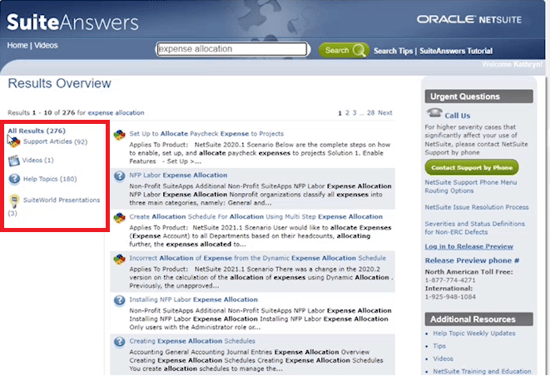 When you click on an article, important information, notes and links are listed throughout to provide additional insights as you dive into the topic.
User Guides
Another type of resource you can search for from the SuiteAnswers homepage is user guides. If you search "user guides" and click the first user guides option in the results, it will bring up a listing of PDF documents related to different topics in NetSuite. These PDF documents can be downloaded and used as a guide as you work within NetSuite.
Videos
At the top of the SuiteAnswers homepage you'll find links to "Home" and "Videos." If you click on the "Videos" link, it will bring up a list of videos that are available within the system. Various topics are listed on the left-hand side of the screen. When you click on a topic, a list of relevant training videos will appear for you to choose from.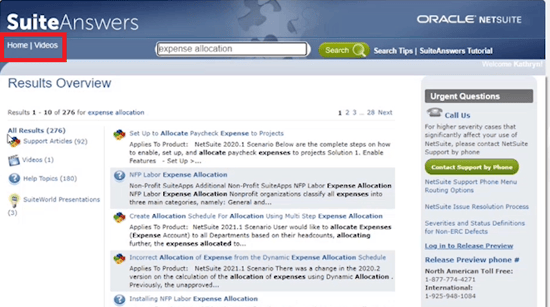 Need Help?
Contact us online or give us a call at 410.685.5512 to see how you can enhance your current experience with NetSuite.
Published
February 4, 2022