When working in multiple systems to run your business and execute your ecommerce processes, it's challenging to find accurate data when you need it. Manual data entry, data exports and costly errors can result from keeping your ERP system separate from your Shopify data. But that doesn't have to be the case if you're on NetSuite or Microsoft Dynamics 365 Business Central.
An integration platform as a service (iPaaS) is a cloud-based platform that integrates software applications that would otherwise operate in separate environments. This kind of solution is available to connect Shopify with your ERP system, so all that data is easily accessible without the need for manual processes.
In this article, we'll explore how an iPaaS can strengthen your current ecommerce operations by integrating Shopify with your cloud-based ERP system.
Using an iPaaS for Your Ecommerce
One of the perks of using a cloud-based ERP system is that you can conduct business processes from anywhere. Efficient automated workflows can be created between your ERP and your ecommerce platform.
With an iPaaS solution, you can integrate Shopify and your ERP, so there's no need for manual processes and their frustrating side effects. Any updates to one application are automatically made in the other, ensuring your information is current and correct between systems. Improving your processes with automation enhances overall efficiency as you and your team have more time to focus on other areas of your business.
Ready for a real-life example? We're implementing NetSuite for a client who uses Shopify for their web storefront. We knew Celigo's iPaaS offered a prewritten solution to integrate NetSuite and Shopify, so it had exactly what they needed to make the most of their NetSuite and Shopify investments. Our client will have Shopify fully integrated with NetSuite—a huge bonus as they transition their ERP and scale operations.
So, what do these integrations look like and how do they work?
Celigo's Integration With NetSuite
Celigo's Shopify–NetSuite Integration app helps you combine Shopify's ecommerce platform with the back-office features of NetSuite. With the Shopify integration app, you can focus on increasing sales and manage orders in real-time without needing to manually sync your Shopify web store and NetSuite accounts.
The integration app comes with prebuilt integration flows that synchronize your customers, sales orders, inventory levels, items, billing information, fulfillments, cancellations and refunds between NetSuite and Shopify, thus eliminating the overhead associated with dual-entry and maintenance between multiple systems.
Integration Flows
The integration app consists of the following key integration flows:
From Shopify to NetSuite
Import customers
Import sales orders
From NetSuite to Shopify
Export fulfillments
Export inventory levels
Export billing information
Export products/variations
Export order cancellations
Export refunds
Export customers
Export sales orders




Celigo's Shopify-NetSuite integration
Celigo's Integration With Business Central
Celigo also integrates Shopify with another cloud-based ERP system, Microsoft Dynamics 365 Business Central. Integrations in Business Central allow you to execute various business activities and fully leverage your ERP investment.
The Shopify-Business Central integration app automates and synchronizes your orders, outbound deliveries, inventory and order cancellations between both accounts. It also helps address ecommerce business challenges like:
Processing orders, fulfillments and cancellations fast and without errors
Keeping healthy inventory levels
Providing customers with visibility into their order status
Accurate accounting, financial forecasting and resource planning
Features and Benefits
Increase the speed of data exchange and optimize customer experience with timely fulfillment of orders
Take control of your integrations with tools that let you configure and allow you to make mapping changes on the fly
Efficiently scale operations by automating processes that rely on both platforms
Reduce maintenance time
Eliminate manual data entry and avoid costly errors
Free up time and resources to focus on your business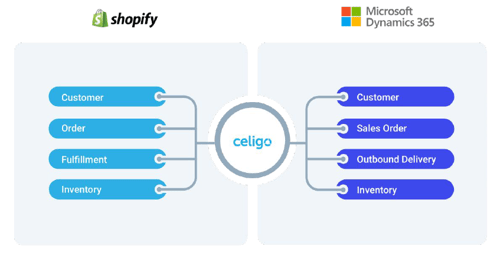 Celigo's Shopify-Business Central integration
Supported Integration Flows
The following built-in flows sync from Shopify to Business Central or vice versa.
Shopify orders to Business Central sales orders

This scheduled-delta flow can sync the following:

New orders from Shopify as sales orders to Business Central (If an order exists in Business Central, the flow ignores it.)
Customers by email address and creates new customers if the records are not available in Business Central
Address and order line items to sales orders in Business Central
Order total details and syncs variance amounts to sales orders in Business Central (Any variances in the sales order are recorded as a line item.)

Shopify customers to Business Central customers

Syncs customers and addresses from Shopify to Business Central (This creates or updates any customer records added since the last flow run. If the customer exists in Business Central, the flow updates the existing customer record.)

Business Central posted sales shipment to Shopify fulfillment

Syncs posted sales fulfillment from Business Central to Shopify when the status of the fulfillment is changed to "shipped" in Business Central (This is a once-exported scheduled flow. The flow also syncs partial fulfillment.)

Business Central inventory to Shopify inventory

Syncs the inventory from Business Central and adjusts the inventory levels in Shopify (This is a scheduled flow.)

Shopify product details to Business Central item ID map record

Syncs the product ID, variant ID and inventory item ID information from Shopify to the corresponding Business Central "Celigo eTail item map" custom record (This is a scheduled flow.)
Key Takeaways
If your cloud-based ERP and Shopify web store are separate and require manual intervention to track your information, automating processes with an iPaaS solution like Celigo can radically improve your business's productivity. Third-party integrations help you make the most of your ERP investment—including optimizing your ecommerce to keep your business ahead.
Need Help?
If you have questions or would like more information about automating your ecommerce business, connect with us online or give us a call at 410.685.5512.
Published
February 3, 2023