As your manufacturing or distributing business begins to take off, your main objective is to elevate productivity across your organization.
You want your team to streamline lead-to-cash processes so they can improve sales performance through forecasting, upselling and outlining commission management like a pro.
Successful companies adapt to their customers' needs.
Where possible, they replace manual processes with automated ones to improve responsiveness. Does your team have the right solution in place?
NetSuite Customer Relationship Management (CRM) can be that solution.
NetSuite CRM delivers powerful capabilities all in a single cloud solution, including sales force automation, marketing automation, and customer service and support. NetSuite CRM also includes sales performance management, order management and partner management seamlessly integrated with your NetSuite ERP and ecommerce investments.
Let's explore nine simple tactics you can use to build your business with this powerful CRM tool.
1. Sales Force Automation
Equip sales with real-time access to prospect, customer, opportunity and order records.
Manage opportunities across status, revenue, key contacts, notes and related documents
Provide sales managers with a complete view of all leads and opportunities in the pipeline
Capture detailed records across all interactions and convert opportunities into quotes and sales orders
2. Reporting and Analytics
Real-time dashboards deliver customizable, role-based reports to sales, marketing and service teams.
Measure continuous sales performance with personalized key performance indicators
Access sales goals such as achieved versus quota, actual versus sales forecast and sales pipeline by stage
Monitor customer service metrics on call resolution times, customer satisfaction, subscription renewals, call volumes and case trends
Examine marketing benchmarks like lead-to-close metrics, number of website unique visitors, lead-generation trends and customer acquisition costs
3. Sales Forecasting and Quota Management
Build reliability, predictability and trust into the sales process.
Allow users to categorize the transaction forecast type to appropriately identify opportunities, quotes and estimates
Utilize probability-based forecasting with adjustable weighted measurement of pending opportunities, quotes and orders
Analyze actual sales and recurring revenue projections in forecasts and variances
4. Upsell, Quote and Order Management
Easily convert quotes into approved sales orders and automatically process with back-end financials.
Provide recommendations based on intelligent upsell management and buying patterns
Improve quote and order accuracy by including automated tax and shipping-rate calculations, pricing and discounting rules
Accelerate order management with online approval and automated workflow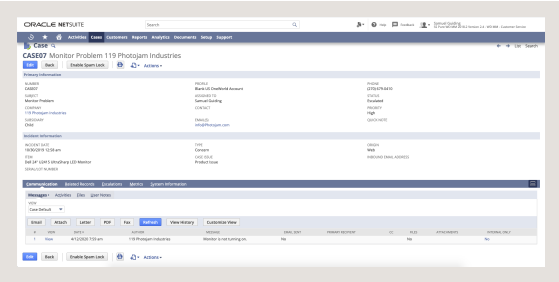 Your NetSuite dashboard
5. Customer Service and Support
Provide the customer service center with a 360-degree customer view.
Automate case management processes for assignment and escalation
Track support cases according to product, issue, case type, partner or customer
Enable online self-service with case submissions, status tracking and communications
6. Marketing Automation
Automate multi-channel marketing campaigns to align with sales efforts.
Enable rapid response to maximize the value of opportunities
Automate lead capture from websites, search engines, direct mail and events
Build and send promotional or automated email marketing campaigns
Support upsell marketing based on historical purchasing patterns
7. Ecommerce
Connect with NetSuite's ecommerce solution to create a single system of record for customer, activity and transaction data.
Track every online interaction with prospects and customers
Improve sales effectiveness by providing greater visibility into products or services recently browsed
Enhance the customer experience by leveraging real-time data integrations between CRM and ecommerce
8. Partnership Relationship Management
Fully control every element of the partnering process.
Manage leads, joint marketing, sales pipeline, orders and commissions
Enable partners to register, manage and track their leads
Provide full visibility into your partners' sales forecasts
9. Mobile
Access real-time business information on mobile devices.
View, enter and update key customer and sales data
Submit time sheets and expenses with easy snap and attach receipts
Manage everyday activities, tasks and calls from your smartphone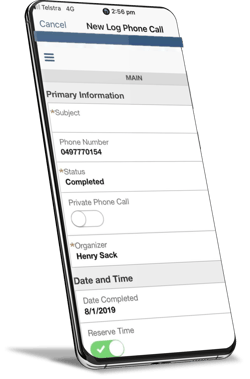 NetSuite Mobile in real time
Key Benefits
Here are a handful of additional features that caught my eye:
Streamline lead-to-cash processes
Elevate productivity across the organization with a 360-degree view of your customers
Improve sales performance through forecasting, upsell and commission management
Manage global sales, marketing, services and partner organizations
Remotely access CRM data on your mobile device
Need Help?
If you'd like to discover the power of NetSuite CRM, contact us online or give us a call at 410.685.5512 to see a system like this in action.