Subscribe
How the War on HTTP Can Affect Your Business
We live in a world where consumers are wary about internet security, and rightfully so. Consumers trust certain websites and if there's any suspicion of a scam or virus, they'll close it and run for the hills.
Web browsers such as Google Chrome and Mozilla Firefox are stepping up their game when it comes to security. They're essentially declaring a war on the standard HTTP websites. If your website isn't secured and stamped as HTTPS, it could cause your business major problems.
What is HTTP vs. HTTPS?
When looking at a website address, you'll notice that some websites start with "HTTP" and others start with "HTTPS."
HTTPS is the same kind of website as an HTTP site, but it signifies that there are protective tools in place to make it more secure. The communications being sent to and from an HTTPS site, for example, are encrypted and the site has an SSL certificate. The SSL certificate is a certificate of authenticity that shows that the site you're going to is a valid, trusted site that's been confirmed by a reputable global third party.
How Are Web Browsers Singling Out HTTP Sites?
Starting in January 2017, Google Chrome and Mozilla Firefox are installing updates to make users even more aware of potentially risky sites. This includes the same security warnings you've occasionally seen before, but thanks to updated, vicious algorithms, they are rumored to become bolder and more prevalent going forward.
Here is a comparison of what users will see in a normal HTTP site versus a trusted HTTPS website on Google Chrome.
HTTP: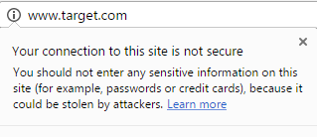 HTTPS:

Even though you own a legitimate business, getting this kind of warning while using your site could potentially push away security-conscious customers if you don't have an HTTPS site. It can inevitably slow down your website traffic and damage your online reputation.
How Does This Affect Your Business?
Your next step should be to talk with your trusted website developer about getting your site set up for HTTPS. Usually, minimal code changes are required to get you set up, but that largely depends on your unique site. Your web developer should also help you get your SSL certificate, and set up a redirection so users who try to go to your old site will be automatically redirected to your secure site. For instance, when online searchers type in http://www.yourwebsitename.com, they will be redirected automatically to https://www.yourwebsitename.com.
Bottom line: customers expect that you will protect their information on the internet. Even if your site doesn't hold confidential data, secure HTTPS sites are going to be the standard very soon. If your site isn't updated by that time, here's what could be shown in the future:
That's no way to welcome a potential customer to your website, is it?
Need Help?
The Gross Mendelsohn Technology Solutions Group would be happy to help you get your website to a secure place. To get started, click here to chat with our experts or call Joshua Beitler at 410.685.5512.