Expense reports are essential to monitoring spending and tracking the costs incurred from your business operations. Whether they're monthly, long term or recurring, it's important to analyze this information to get a clear view of your organization's spending patterns and trends to see if they match forecasts and where you can reduce costs.
Leveraging spreadsheets and updating expense information manually can be tedious and error prone. The status of purchase requests, approvals and overall expenses are constantly in flux and it's challenging to stay on top of it all while ensuring accuracy.
With NetSuite, expense information can be accessed and updated in real-time by you and your employees with the mobile app and Employee Center Role. Let's dive into the capabilities and how to enhance the efficiency of your organization's expense and purchasing processes.
What's Included in the Mobile App?
The basic functionality of NetSuite's mobile app includes expense reports, purchase requests and approvals for employees on the go. Employees can use the app to enter new contact information and record their activities such as phone calls and tasks related to records in NetSuite.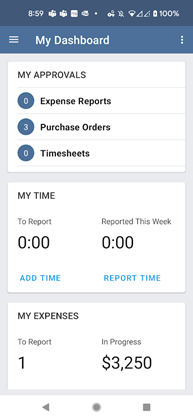 Main Employee Center screen in the mobile app
Expenses
In the "Expenses" area of the mobile app, employees can record new expenses for reimbursement. Each expense can include the date, amount, category and a memo line for further description. Documentation of the expense can also be provided by taking a picture of their receipt or attaching a file from their phone.
When all expenses for the month have been added, employees can create and submit an expense report for approval. All the backup documentation will follow the expenses in the expense report. Employees can also check on the status of their expense reports from the mobile app.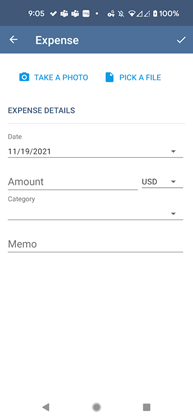 Adding expenses to an expense report in the mobile app
Notes and Attachments
Employees can enter purchase requests into the mobile app that include notes and attachments. These requests will be routed to the appropriate managers and the purchasing department for approval.
Once approved, the purchase request will automatically become a purchase order and will follow the procure to pay process in NetSuite. Just like with expense reports, employees can follow their purchase requests to see the approval status.
Approvals
Supervisors can use the mobile app to review and approve any workflow items assigned to them. They can also leverage the "Saved Searches" feature to find more information about records saved within NetSuite.


Approvals screen in the mobile app with drill down to request
CRM
In addition to the expense and approval functionality, employees can take advantage of the native CRM functionality in NetSuite and maintain records on the go. For example, a salesperson could add a new contact to an existing company and log a new phone call or visit to the contact while travelling on the road. They could also create a new task to follow up and assign it to another employee, all from the mobile app.
Extensions
When you extend NetSuite with the SuitePeople HR module, more features become available in the Employee Center and the mobile app. You can record your timesheet, submit and approve time off requests, give "kudos" to your colleagues, browse your company's org chart and search the employee directory.
Employee Center
All the functionality available in the mobile app is also available in the Employee Center when accessed from the NetSuite application in a web browser. Employees can personalize the way their home screen looks by adding and removing portlets as well as modifying the information displayed in their portlets. Changes made in the desktop app can also update the mobile app so that users get a consistent experience across all devices.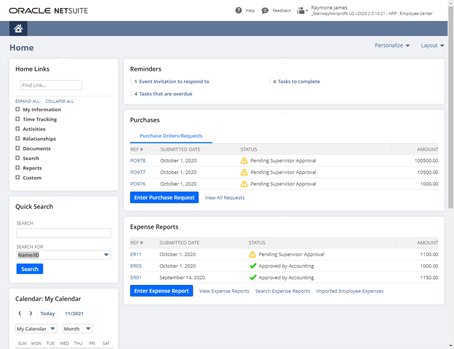 Employee Center in a web browser
While this blog post focused on the Employee Center, depending on an employee's role and the license assigned within NetSuite, employees may also be able to add and maintain records such as vendors, customers, bills and invoices from the mobile app. Reports and dashboards are also available in the mobile app so that users with higher roles within NetSuite can have access to information on the go.
Need Help?
Contact us online or give us a call at 410.685.5512 to see how NetSuite can elevate your organization's expense reporting and purchasing processes.
Published
December 2, 2021