Managing the supply chain for your business means ensuring you balance the right combination of cost control, accurate lead times, inventory and service level.
NetSuite Supply and Demand Planning, in conjunction with integrated demand planning solutions, helps you make informed decisions while ensuring product availability and keeping excess inventory to a minimum.
Enhanced Demand Planning in NetSuite
NetSuite Demand Planning predicts future inventory needs based on historical demand, seasonality, open opportunities and sales forecasts.
By pinpointing when to reorder items and in what quantities, you can optimize stock levels, improve forecast accuracy and enhance supply chain planning. You'll have the right amount of stock on hand to fill orders without having overstock sitting idle on warehouse shelves.
There's additional software built to integrate with NetSuite to improve your demand planning. For example, Netstock, a demand planning solution, integrates directly with NetSuite to optimize your data with predictive intelligence to eliminate stockouts, reduce excess inventory, proactively plan and make strategic inventory decisions. You get increased visibility into your supply chain processes for more accurate forecasting and advantageous inventory planning.
Inventory
With improved demand planning, you can optimize inventory through:
Inventory visibility
Automating time-consuming, manual processes is essential for consistently accurate inventory information. With a demand planning solution, consolidated inventory data is collected from NetSuite that takes in supply chain and sales inputs to show where sales and revenue are lost from stockouts.
Automatic inventory classification
Classifying items identifies high-performing stock keeping units (SKUs), which are the items most valued by your customers and contribute most to your profits. This can be accomplished by using a classification matrix that automatically displays item performance for you to prioritize what to have in stock.
Fill rate metrics
With real-time metrics, you can set fill rates and ensure you meet customer demand for your profitable items, avoiding stockouts and backorders.
Optimized shipping costs
By viewing items that need to be replenished, you can strategically fill shipping containers and meet minimum order requirements to optimize your shipping spend.
Forecasting
Accurate forecasts help your business anticipate what's to come. You can better identify variables that impact your supply chain with:
Supplier performance analysis
Reviewing previous supplier data allows you to plan to ensure your customers receive the right stock on time. You can use supplier performance metrics and planning information to negotiate terms and work with suppliers to reduce lead times and mitigate supply risk.
Integrated sales and operations planning
Information should be consistent and available to all your departments by providing centralized visibility to sales forecasts across your inventory, procurement, operations and finance teams.
Anticipated supply risk to avoid disruptions
Avoid stockouts with powerful predictive forecasting and planning tools that automatically adjust order recommendations in real time.
Netstock Integration With NetSuite
If you still rely on manual processes for inventory and forecasting data exported from NetSuite, it may be time to tack on an integrated demand planning solution like Netstock. Manual processes throughout your supply chain will eventually hold your business back if they aren't already.

Introducing further automation and analytics into your demand planning will keep your operations running efficiently while providing more information for strategic planning and inventory decisions.

Not only that, but the integration is hassle-free. Netstock is built to seamlessly integrate with NetSuite quickly, allowing you to start revamping your inventory levels in a matter of days.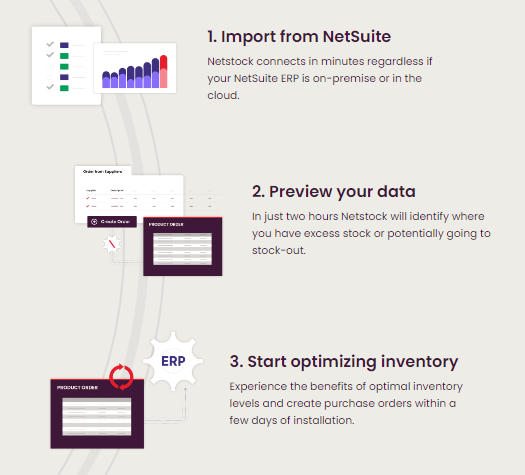 Integrating Netstock with NetSuite
Supply Planning in NetSuite
NetSuite Supply Planning determines how to best meet demand plan requirements to balance supply and demand and fulfill customer orders.
In NetSuite, supply plans generate a recommended schedule for purchasing or manufacturing items, listing the recommended purchase and work orders based on lead times and expected demand. This all ensures products are available to fulfill customer orders.
NetSuite Supply Planning takes demand plans and generates them into purchase, work and transfer orders to ensure product is available to fulfill customer orders using three planning methodologies: reorder points, time-phased planning and materials requirement planning.
1. Reorder Points
NetSuite generates a purchase order, work order or transfer order to restore inventory to the preferred stock level when it falls below the minimum threshold, known as the reorder point.
When set to auto-calculate, NetSuite will consider historical data values, such as item demand from sales, lead time from suppliers and company-defined safety stock, to define the reorder point.
2. Timed-Phased Planning
Time-phased planning is used to plan demand when the repurchasing cycle is available. If a supplier always delivers on a particular day of the week, it makes sense to plan for this material based on the delivery cycle.
In this case, NetSuite can calculate all supply needed to cover demand in the current cycle so it can be ordered and delivered together. You can't reorder until the following delivery date.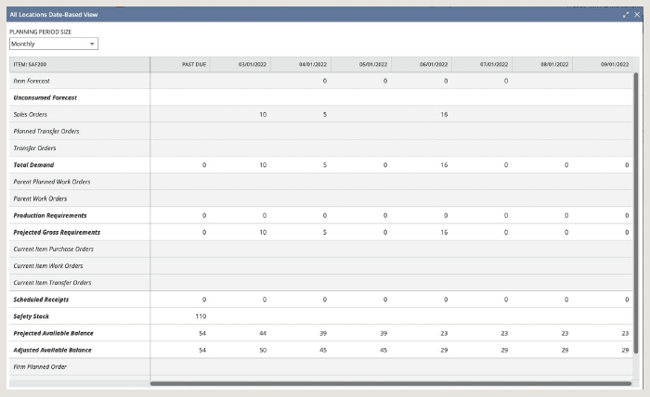 Supply plans
3. Material Requirements Planning
Material requirements planning (MRP) gives businesses visibility into inventory requirements needed to meet demand, helping your business optimize inventory levels and production schedules.
NetSuite MRP accelerates the production process by determining what raw materials, components and subassemblies are needed, and when to assemble finished goods based on demand and bill of materials (BOM).
MRP increases supply planning insight and efficiency, enabling you to easily manage inventory, schedule production and deliver the right product on time and at optimal cost. Supply planning is enhanced with the following tools and strategies:
What-if scenario planning
What-if analysis gives you the tools to understand how to optimize your inventory. Using scenario planning, you can mock up multiple situations and identify if it's possible to expedite delivery by making changes, like where goods ship from and when.

With NetSuite MRP, you can set supply planning criteria, such as the planning horizon, included items, locations and planning rules at the plan level vs. the item level. This allows your business to build multiple hypothetical plans and run what-if scenarios to understand how changes will affect inventory levels and your ability to meet demand.
Planning workbench
The planning workbench helps highlight situations that require attention, allowing you to prevent shortages and excess supplies, while providing what-if analysis capabilities for simulating multiple plans.

You can monitor, firm up or release orders for approval and aggregation, review and accept action/exception messages individually or in bulk and gain visibility into the demand to supply allocation. You're also able to drill into supply and demand across locations for an item.


Planning workbench
Supply allocation
As a part of the supply allocation functionality, you're able to allocate inventory that has already been received and you anticipate receiving, whether on a work order, transfer order or purchase order.

You can also allocate inventory coming in on an inbound shipment, which is essentially a collection of purchase orders managed on an individual shipment basis. This allows you to validate supply and identify the earliest date an order can be filled.
Key Takeaways
Your business can radically improve supply and demand planning processes with NetSuite's set of tools and by integrating a demand planning software, like Netstock. Increased visibility into inventory, automated order processes and better forecasting and planning with predictive analytics ensure that your supply chain is operating efficiently and your business is prepared to meet customer demand.
Need Help?
Want to learn more about balancing supply and demand processes in your supply chain? Contact us online or give us a call at 410.685.5512 for a demo or to talk through your inventory challenges.
Published
August 22, 2022