Cloud Productivity and Collaboration | Construction & Real Estate | ERP and CRM Systems | Integrations and Development | Manufacturing & Distribution | Nonprofit | Service Businesses
Using Sage 300's order entry module is a great way to handle shipping and billing processes with ease. However, there is one catch: Sage 300 requires that each individual order is shipped and invoiced separately. We'll let you in on a secret. There's a way to get around that limitation.
ERP and CRM Systems | Integrations and Development
A large area of inefficiency that I often see is manually entering transactions that have occurred in other systems. For example, you may have a billing system that generates invoices during the month and then you manually enter the revenue into the general ledger system at each month end. Or even more time consuming, you are entering each invoice manually into the AR and collection system. Another example is a company that outsources its payroll. Each pay cycle, they make a manual journal entry to record the payroll expense, taxes and withholdings. Not only do these entries cost a company time, but they could also result in errors in the company's data. Each line of a manually entered journal entry presents an opportunity to key an account number or amount incorrectly.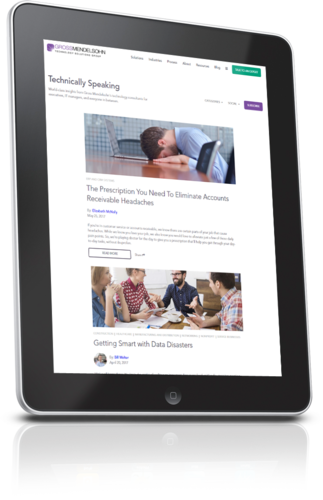 Subscribe To Our Blog
With your blog subscription, you'll get a free cyber security awareness guide for you and your team.
ERP and CRM Systems | Integrations and Development
You don't have to be a business owner with an MBA to know that giving your salespeople free access to your accounting system is unwise. Nothing against salespeople, but they just don't understand the importance of debits and credits. And quite frankly, they don't have to. It's not their job. Their job is to sell. That being said, it is important for a salesperson to have access to sales data and key metrics for their customers. Why Give Your Sales Team Access To Your Financial Data? Your salespeople need to know who bought what, when and for how much. They also need to know who pays and, more importantly, who doesn't pay their invoices. All of this data resides in the ERP (enterprise resource planning) system, AKA the accounting system.