ERP and CRM Systems | Service Businesses
Although inventory plays a different role than in other industries, it is no less significant to running your service business. The quality of your services and the satisfaction of your customers depend on the materials your business uses to get the job done. That is why properly managing your inventory is imperative.
ERP and CRM Systems | Manufacturing & Distribution
Balancing supply and demand in your manufacturing or distribution business is a delicate process. Both an art and a science, good supply planning ensures that your business has the right combination of cost control, lead times and service level. Supply planning and demand planning go arm in arm in the manufacturing and distribution industry. Supply planning is part of supply chain management and helps determine how to best fulfill the requirements outlined in your demand plan.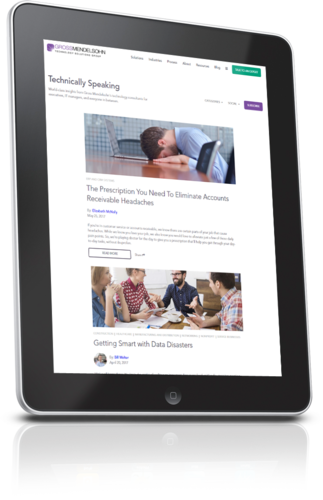 Subscribe To Our Blog
With your blog subscription, you'll get a free cyber security awareness guide for you and your team.
With any update to your ERP system, it's important to understand how to take full advantage of new capabilities. You may have noticed that each new release of Sage 300 features new web screens. But you might still be wondering what web screens are and how they're useful to you.
ERP and CRM Systems | Nonprofit
Accurately assessing and reporting the results of your work is critical to determining your nonprofit's impact. How else can you tell if funding is being used appropriately or if your organization is accomplishing its goals? Clear methods of gathering and analyzing program outcomes are a must-have to legitimize your organization and its cause. You want to convey your efforts in a way that shows not only your organization's purpose, but its worth.
ERP and CRM Systems | Service Businesses
If you're in the service business industry, having real-time visibility and transparency in your finances is critical. As your business moves to the cloud, you may be wondering how you could streamline your billing process to make the experience seamless for your customers. With the move to a subscription economy, businesses need a way to generate invoices that accurately reflect pricing and consumption over a defined period.
ERP and CRM Systems | Manufacturing & Distribution
If you're a manufacturer or wholesale distributor, you're most likely looking to increase labor productivity, reduce handling time and optimize space utilization. This can be a daunting task unless you have a tool in place that gives you a 360-degree view of your warehouse operations. NetSuite's Warehouse Management System (WMS) optimizes day-to-day warehouse operations using industry leading best practices — including intelligent pick and pack processes, handheld barcode scanning, cycle counting and integration with shipping systems — to run your warehouse more efficiently and minimize handling costs.