Cloud Productivity and Collaboration
Back in January of 2017, I wrote a blog post called "The Benefits and Magic of Virtualization for your Organization's Computer Network." Over five years have gone by, and since then, a lot has changed. We've been through a pandemic that pushed a lot of people into a 100% virtual world. It's time to bring you up to speed on what has changed, what hasn't changed and what's new and exciting in the world of virtualization.
Cloud Productivity and Collaboration | Networking
Adopting a new technology tool can sometimes feel like more trouble than it's worth because of the steep learning curve. It'd be nice if everything you already knew how to use was simply ushered into the next tool. You're used to current workflows, but you can't completely forgo the efficiencies that come with the latest in cloud technologies, especially when growing your business. Luckily, Microsoft Windows 365 combines the power and security of the cloud with the versatility and simplicity of the PC.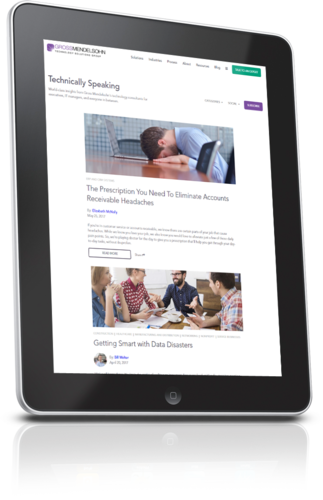 Subscribe To Our Blog
With your blog subscription, you'll get a free cyber security awareness guide for you and your team.
Cloud Productivity and Collaboration | ERP and CRM Systems | Manufacturing & Distribution
As your manufacturing or distributing business begins to take off, your main objective is to elevate productivity across your organization. You want your team to streamline lead-to-cash processes so they can improve sales performance through forecasting, upselling and outlining commission management like a pro. Successful companies adapt to their customers' needs. Where possible, they replace manual processes with automated ones to improve responsiveness. Does your team have the right solution in place?
Cloud Productivity and Collaboration
Cloud hosting is all the rage. Chances are, some aspect of your organization's technology lives in the cloud. But what does "cloud hosting" mean, and what do you need to know to evaluate whether it's a good option for your business? One popular cloud host got some unwanted attention recently when they booted a social media platform whose conservative leanings were not to their liking. The social media platform went offline abruptly and scrambled to find a new host. This caused a media stir amidst the trend of "cancel culture" and prompted many business owners to ask, "Could that happen to me?"
Cloud Productivity and Collaboration | ERP and CRM Systems | Manufacturing & Distribution
Successful businesses often share these common traits: they efficiently manage fulfillment, eliminate manual work and manage only by exception. As customer expectations and supply chain complexity continue to rise, it is more critical than ever to deliver the perfect order. So, how does this happen efficiently and profitably?
Cloud Productivity and Collaboration | ERP and CRM Systems
One of the coolest features of NetSuite is the ability to add custom fields and customize forms throughout the system – with no coding or programming required! Let's take a deeper look at this unique feature.