Cloud Productivity and Collaboration
Cloud hosting is all the rage. Chances are, some aspect of your organization's technology lives in the cloud. But what does "cloud hosting" mean, and what do you need to know to evaluate whether it's a good option for your business? One popular cloud host got some unwanted attention recently when they booted a social media platform whose conservative leanings were not to their liking. The social media platform went offline abruptly and scrambled to find a new host. This caused a media stir amidst the trend of "cancel culture" and prompted many business owners to ask, "Could that happen to me?"
Cloud Productivity and Collaboration | ERP and CRM Systems | Manufacturing & Distribution
Successful businesses often share these common traits: they efficiently manage fulfillment, eliminate manual work and manage only by exception. As customer expectations and supply chain complexity continue to rise, it is more critical than ever to deliver the perfect order. So, how does this happen efficiently and profitably?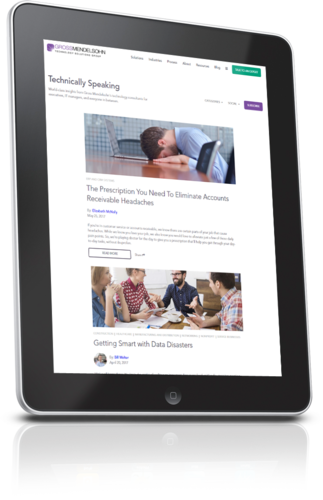 Subscribe To Our Blog
With your blog subscription, you'll get a free cyber security awareness guide for you and your team.
Cloud Productivity and Collaboration | ERP and CRM Systems
One of the coolest features of NetSuite is the ability to add custom fields and customize forms throughout the system – with no coding or programming required! Let's take a deeper look at this unique feature.
Cloud Productivity and Collaboration | Manufacturing & Distribution
As your manufacturing and/or distribution business grows, it's common to feel overwhelmed with increased orders and pressure from growing prospects. Today's business environment demands efficient, transparent and automated order fulfillment. It's what differentiates your business and creates loyal customers who buy more and become brand advocates. NetSuite Order Management enables you to meet and exceed rising customer expectations for quick, accurate order fulfillment, while profitably scaling your business. Let's explore how you can grow and organize your business with NetSuite Order Management.
Cloud Productivity and Collaboration | ERP and CRM Systems
Looking to run your business more effectively? We've found that some built-in reports aren't enough, which is why we turn to more powerful tools like Sage Enterprise Intelligence (SEI). SEI can convert all the data going into your Sage 300 system into actionable insights to run your business more efficiently. Here are four key benefits you should take advantage of when it comes to this robust and agile business intelligence reporting tool.
Cloud Productivity and Collaboration | ERP and CRM Systems
As the year comes to a close, we are all looking to brighter days ahead of us. 2021 seems like a glimmering opportunity after the rollercoaster ride 2020 provided us.