Construction & Real Estate | ERP and CRM Systems | Manufacturing & Distribution | Service Businesses
Our annual Sage 300 Users Group is a treasure trove of Sage advice. Here are four essential tips that our moderators revealed to Sage users at our last event…
Cloud Productivity and Collaboration | Construction & Real Estate | ERP and CRM Systems | Integrations and Development | Manufacturing & Distribution | Service Businesses
Over the past few months, you may have received a call from Sage asking if you're ready to switch from Sage 300 to Sage 300Cloud. Before you can make that decision, you'll probably want to know what you'll get out of Sage 300Cloud.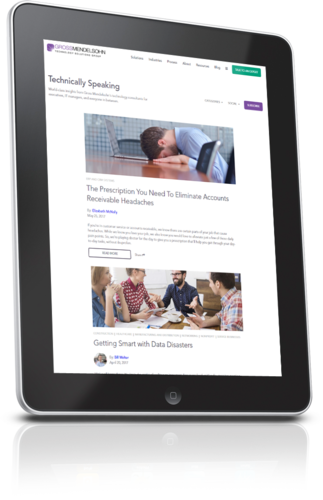 Subscribe To Our Blog
With your blog subscription, you'll get a free cyber security awareness guide for you and your team.
You don't need a crystal ball to get a good picture of what's happening at Sage headquarters. For 2018, Sage is unveiling a slew of new software updates to both Sage 300 classic and Sage 300Cloud (formerly known as Sage 300c). Let's look at some of the big changes for 2018.
Cloud Productivity and Collaboration | Construction & Real Estate | ERP and CRM Systems | Integrations and Development | Manufacturing & Distribution | Nonprofit | Service Businesses
Using Sage 300's order entry module is a great way to handle shipping and billing processes with ease. However, there is one catch: Sage 300 requires that each individual order is shipped and invoiced separately. We'll let you in on a secret. There's a way to get around that limitation.
If you're in customer service or accounts receivable, we know there are certain parts of your job that cause headaches. While we know you love your job, we also know you would love to alleviate just a few of those daily pain points. So, we're playing doctor for the day to give you a prescription that'll help you get through your day-to-day tasks, without ibuprofen.
Business Intelligence and Reporting | ERP and CRM Systems
As a Sage business partner, we are noticing that as users become more technologically savvy, they want to create their own Sage 300Cloud custom reports and pull data into Excel for analysis. The roadblock that these users encounter is, "Which tables and which fields do I need?" This question can be so overwhelming that some users give up. What most users don't realize is that Sage gives us the tool we need to determine the right tables and fields to use. That tool is installed with Sage 300Cloud (formerly known as Accpac) and is readily available — if you just know where to look.