Subscribe
5 Technology Tools Every Construction Contractor Should Invest In
Networking | Construction & Real Estate
If you have trouble keeping up with the latest technology tools, you're in good company. With a business to manage, it's hard to find the time to figure out which tools you should invest in.
Last week I spoke at a seminar hosted by the Maryland Construction Network. At the seminar we looked at five tried and tested technology trends and tools that aren't going away. Let's take a look at the tools you simply can't ignore, and the benefits that each will offer to your construction business.
1. Mobile Technology
When we compiled the results of our 2017 Maryland Construction Industry Survey, we were surprised at the large number of contractors who aren't using mobile technology to access email, project management systems, electronic files and timesheets.
Mobile technology keeps your workers connected to each other and the office, yet some construction contractors are reluctant to rely on devices like smart watches, mobile phones, laptops and tablets because of security concerns, among other things. While it's wise to be concerned about security, mobile devices can be very safe when you put the appropriate security measures in place.
Mobile devices can be used to complete a variety of tasks in the field. For example, you can:
Get real time data for reports that help with decision making
Instantly submit timesheets
Monitor, manage and track equipment
Send emails about current projects and jobs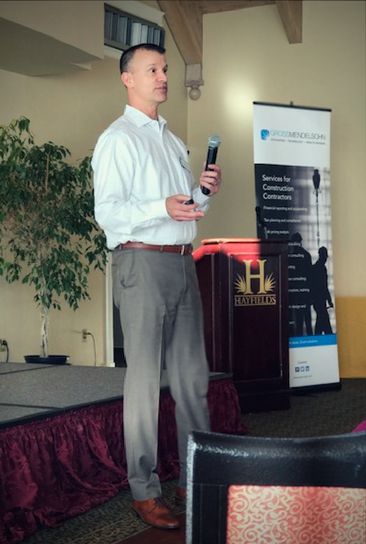 The big benefit of mobile technology is that it helps you do business on the go. For example, one contractor we work with needed a way to print essential documents in the field. We setup a wifi-enabled printer small enough to fit in a briefcase. Now, the contractor prints change orders from their mobile project manager station. Problem solved.
2. Document Sharing and Collaboration
When you think about the amount of time you spend "pushing" documents – whether electronic or hardcopy – it's mind boggling. Consider a change order and how many people it flows through. Likewise, a proposal floats between an estimator, a supervisor, an architect, a client, and the construction business owner, sometimes multiple times. Layers of required signoffs bog down the document flow even more.
A document sharing system gives you access to real-time information. When you get a call from a customer who wants to know the status of a project, wouldn't it be nice to give an answer that's based on real-time information? When your employees use mobile devices to stay connected with your project management system, you can access the latest information about any project without having to track down your project manager in the field.
3. Cyber Security
If you think your construction company won't be hacked, think again. According to the 2017 Maryland Construction Industry Survey, hacks of construction businesses are on the rise. Sometimes, owners of construction companies don't even realize they've been hacked. As you might imagine, an undetected hack can be disastrous to a business.
It's essential that you understand the signs of a possible hack. But more importantly, it's critical that you head off hacks and other threats, like malware and viruses, by putting measures into place to protect your network.
Spam, malware and other vicious attacks can put your business's data at risk. A security breach is not only expensive to address, but it can also wreak havoc with your credibility and reputation.
Cyber threats are getting more sophisticated and aren't going away. Every time you turn around, you hear about a new virus or hack. What's more, antivirus software is no longer enough.
Now is the time to work with a technology professional who can help you pinpoint the vulnerabilities in your computer network, and put best practices into place to minimize the risk of a cyber attack.
4. Social Media
Here's a surprising statistic: nearly two out of every ten Maryland contractors say their business doesn't use social media and/or has no plan to start.
With millions of people – upwards of 2.8 million in fact – using social media, we think it's a mistake to ignore social media.
Popular social media platforms include Facebook, LinkedIn, Instagram, Pinterest and Twitter. Angie's List and Yelp are sites that primarily house customer reviews, which are especially influential in the construction industry.
We've heard business owners throw up objections to using social media: it takes time to manage a social media account; it feels risky to put your company out there publicly; you make it easy for customers to find a place to write a bad review; and social media might not be around in a few years.
Like it or not, social media is not going away. Chances are, your customers and prospects are already using social media, so it makes sense to embrace it and use it to your advantage:
Easily publish pictures and videos to showcase your work
Supplement your one-on-one networking by generating online word of mouth
A positive online presence builds your company's reputation
A solid online reputation can help you attract better quality employees (Yes, your potential employees are on social media, too!)
Jumping on board the social media ship can seem overwhelming. Our advice is to first find the best social media platform for your company. Consider who your target audience is and which social platforms they're most likely to use. If you specialize in kitchen remodeling, for example, Facebook would be a good choice for your company, seeing that most users are between 18-49 years old, with slightly more than half being women. To keep things manageable, pick one social media platform and do it well rather than picking several and not giving them the attention they warrant.
Just as important, remember to manage your online reviews – even the bad ones – on Angie's List, Yelp, Facebook and wherever else they appear.
5. Virtual CIO
The concept of a virtual CIO is still new to many business owners. A virtual CIO is essentially an outside IT advisor who works with you to assess your needs and figure out the right networking setup for your business.
Because a virtual CIO is an outside advisor, it's a cost-effective option for the business owner who doesn't want to add a full-time IT employee to the payroll. Using a virtual CIO can make sense for almost any small or medium-sized business.
A good virtual CIO is experienced in creating long-term technology plans for businesses. They offer advice on essential business decisions, such as whether it makes sense to purchase equipment or rent it. Your virtual CIO not only takes you through technology planning and strategy, but also implements the technology plan you agree on, then helps you maintain and update it as needed for the long haul.
If you don't have an IT professional on staff – and many small and mid-sized construction businesses don't – a virtual CIO can help you develop a customized technology plan that's just right for your business.
Make The Most Of Technology
These technology trends aren't fads. Mobile technology, the threat of hacks and social media are here to stay. To get your company up to speed, talk with our technology experts here. Or, call us at 410.685.5512.