Subscribe
3 Important Things Microsoft Dynamics GP Users Need To Know
In October, Microsoft released new updates to their programs. If you're a Microsoft Dynamics GP user, you should know these important changes in your platform…
1. All Updated Versions of Microsoft Dynamics Will Be Called…
Microsoft Dynamics GP. At their annual conference, Microsoft announced that Dynamics GP will join Microsoft Office and other Dynamics products in dropping the year from the name. All future versions will be known by their release date. This year's version is known as the Microsoft Dynamics GP October 2019 release.
Updates will be released at least three times per year, rather than releasing any major version upgrades. To stay current, you will need to install one of the updates each year. For payroll users, this will typically be your year-end update.
2. There Are New Features Available For Microsoft Dynamics GP Users
Microsoft unleashed several features in their October 2019 software update.
As part of this release, Microsoft announced that they now support Windows Server 2019 and Microsoft SQL Server 2019.
Microsoft also gave Dynamics GP users the ability to…
Write long descriptions in accounts payable transactions.
View the user who posted a journal entry in the inquiry window.
Save time with a history drop down menu that defaults to the most recent year.
Thanks to the new release, workflow users can now import and export workflows, as well as change the approver on an active workflow task.
Payroll users can benefit from new enhancement capabilities, including pay statements reprinting for an entire pay run.
Web client users can save more time with new keyboard shortcuts and the ability to copy and paste journal entries from Excel.
A full list of features is below.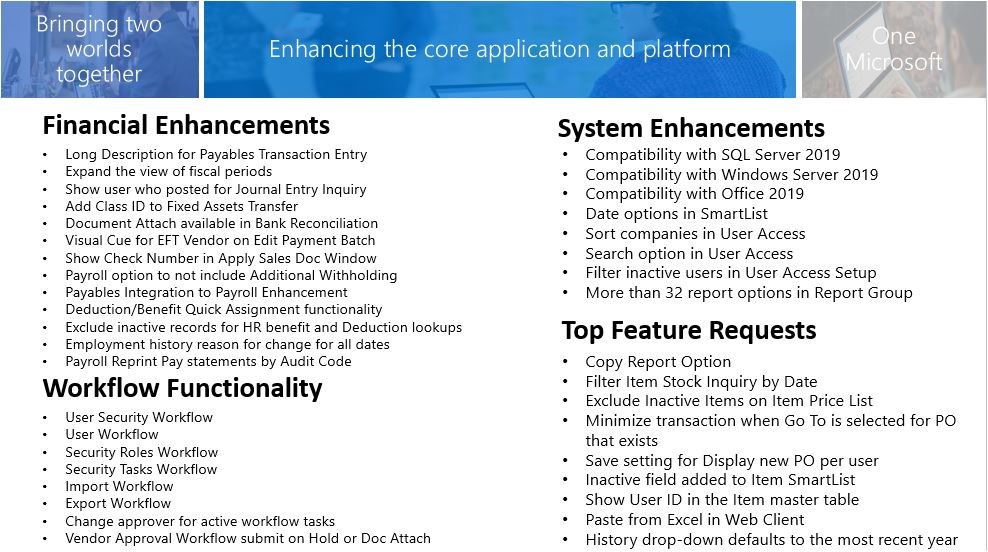 3. You Need To Update If You Are Running Microsoft Dynamics GP 2015
Support for Microsoft Dynamics GP 2015 ends in April 2020. If you are running Microsoft Dynamics GP 2015, there will be no more service packs, tax updates, or new features available after this date. Contact your technology consultant to switch to the latest version of Microsoft Dynamics GP.
Need Help?
If you have questions about the newest features of Microsoft Dynamics GP, contact us here or call us at 410.685.5512.