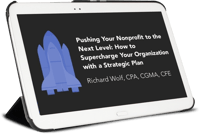 When it comes to nonprofit organizations, a strategic plan can make all the difference, serving as a vital tool in defining where your organization is headed, how you will get there and the resources you will need along the way. Without this plan, many organizations struggle to define who they are, both in the public eye and even internally, and as a result, are often left spinning their wheels when it comes to advancing towards their mission.
In this webinar, you'll learn:
What "strategy" and "strategic planning" mean to an organization
Key concepts involved in strategic planning and the various stages of strategic planning
Mission and vision statements and their role in strategic planning
How strategy moves from concept to implementation and realization
Ways you can contribute to your organization's strategic success…and more!
About the Presenter

Richard Wolf, CPA, CGMA, CFE, is a principal at Gross, Mendelsohn & Associates. He has 20+ years of experience working with nonprofit organizations throughout the Mid-Atlantic region, providing accounting, tax and consulting services.