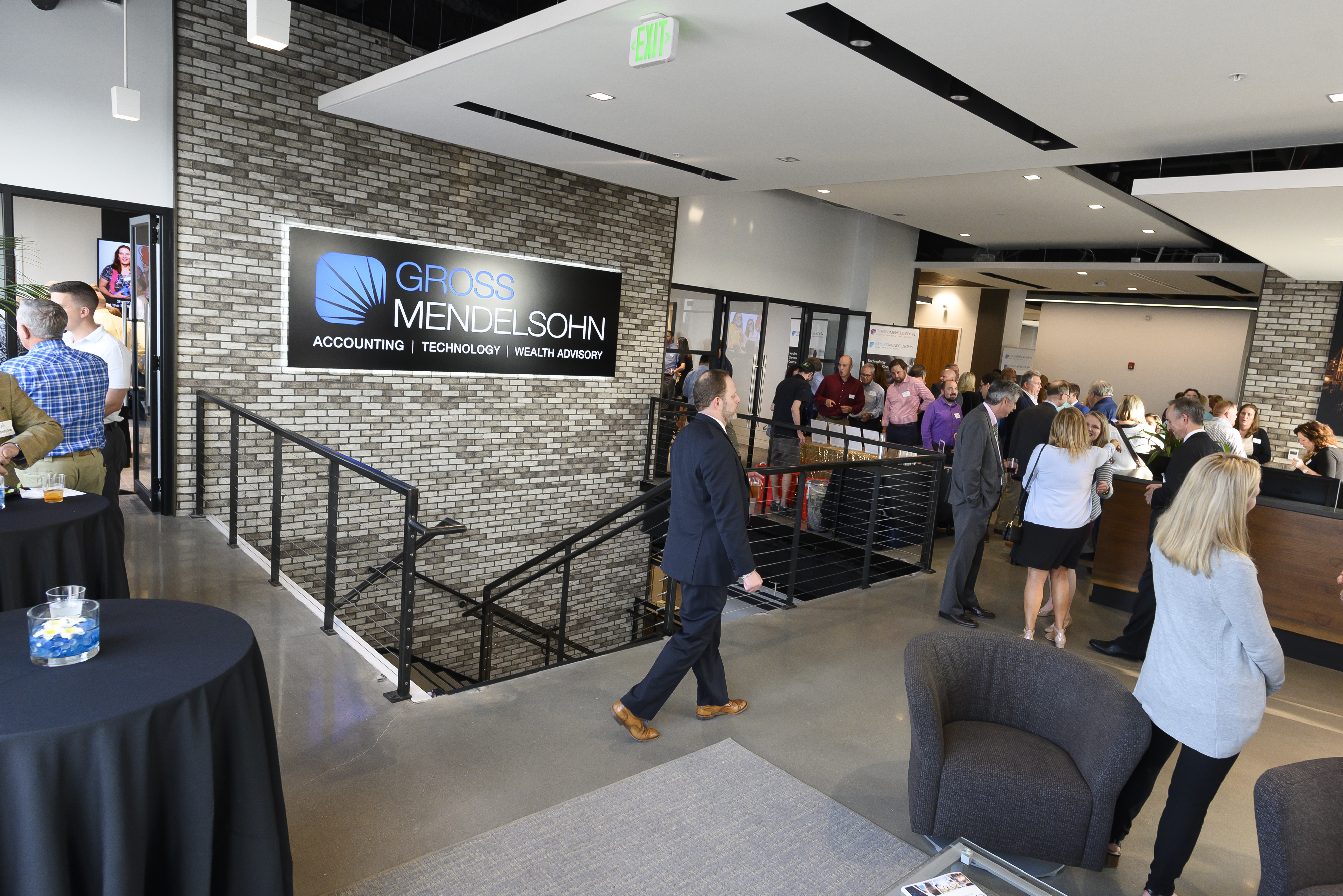 Subscribe
Why We Love Our New Office
It's hard to believe we've been in our new space for six months already. It feels like yesterday that we were packing up hundreds of boxes and decades of memories.
We knew that moving a firm our size was going to be an enormous undertaking, but it was necessary. In addition to needing more room to accommodate our growth, all of us at Gross Mendelsohn wanted a space that better reflected who we are as a firm: modern, streamlined and open.
After months of looking at existing real estate throughout Baltimore City, we ultimately decided on new construction in an exciting new part of the city called McHenry Row.
Despite the massive effort it took to plan for and manage a move of 100+ people, it was worth it. Here's what we love about our new office, and why.
Plenty of Meeting and Collaboration Space
With five traditional conference rooms, a training center and a board room, there is no shortage of meeting space. Each room is equipped with video conferencing equipment, making it easy to collaborate with clients and co-workers who aren't in the office.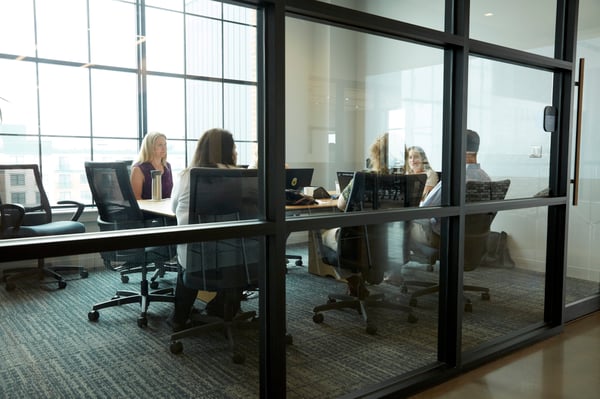 The McHenry Room seats six and features video conferencing and a wall-sized whiteboard
There is also space around the office for informal meetings. Partner Richard Wolf points out, "The layout of our new office promotes interaction among everyone within the firm. There are ample areas for impromptu meetings and collaboration."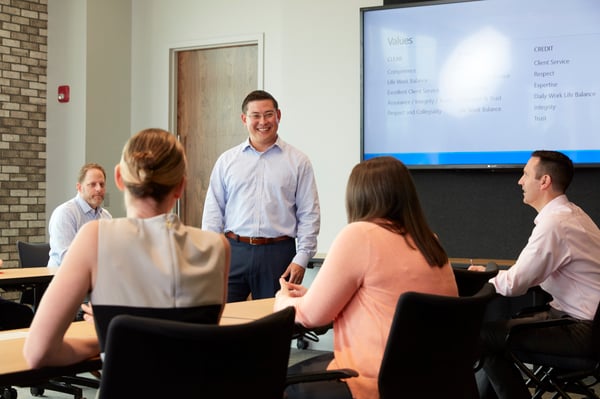 Mike Little of our wealth advisory team talks with our CPAs
Staff members enjoy a break over shuffleboard
Views for Days
Stephanie Menaker of our audit and accounting staff says, "My favorite thing about the new office is the views. I love the view by my desk overlooking the cruise ship terminal."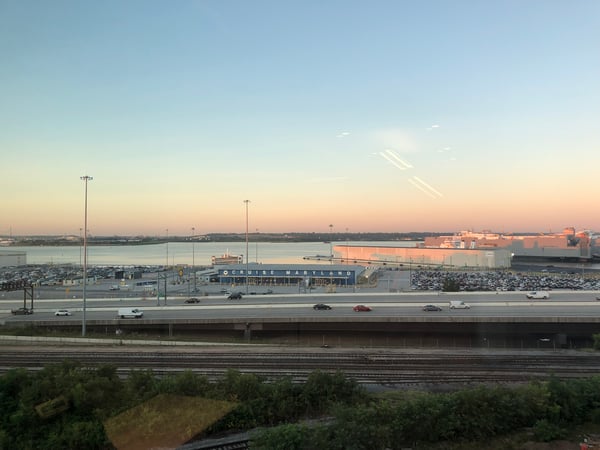 Stephanie Menaker's early morning view of the cruise ship terminal
Stand-Up Desks Are Awesome
Lisa Johnson, a principal in our audit and accounting department, is a fan of her new stand-up desk. "I feel more energized and productive being able to stand throughout the day." Most employees have a desk that, with the push of a button, goes up and down so they can both sit and stand during the day.
Versatile Space for Special Events
"One benefit of new construction – despite the headaches that came with it – is that we could configure the space any way we wanted," explained David Goldner, the firm's managing partner. "We thought carefully about the events that we wanted to host inside our office instead of always going off site and then designed the space accordingly."
Since the office opened in early 2019, we've hosted a number of events, from intimate gatherings to an open house with 200+ people. "It's been fantastic to see our space in use for so many different purposes. It's exactly what we envisioned when we laid everything out on paper," says Goldner.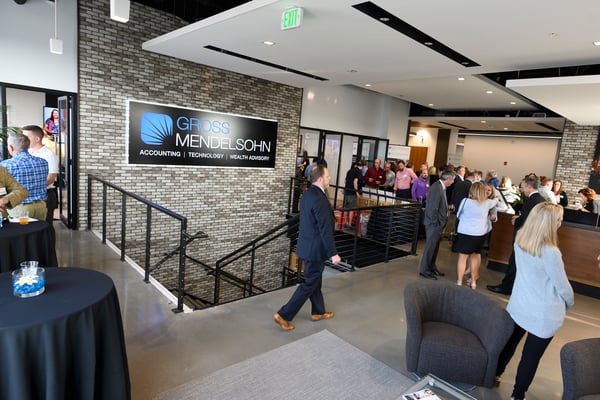 Guests enjoy the open house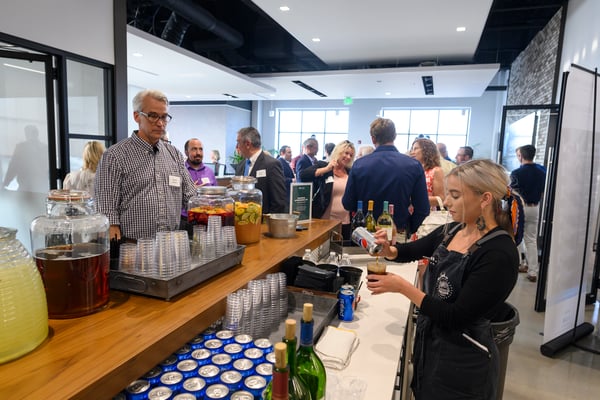 The coffee bar in our kitchen was converted to a sangria bar for our open house
Check out more photos from our open house. We had a blast.
Internal Training Just Got More Convenient
Prior to moving, we often had to go off site for internal training programs, which we hold often so our staff can learn about the latest tax and accounting issues affecting our clients.
One of our must-have items when we laid out the new office was a state-of-the-art training center. Now, we can accommodate large training sessions and seminars within our office, eliminating the inconvenience and expense of going off site.
Thanks to our talented technology team, we can video conference with our Virginia office with the push of a button. The audio/visual tools in the room make learning, collaborating and training so much easier than before.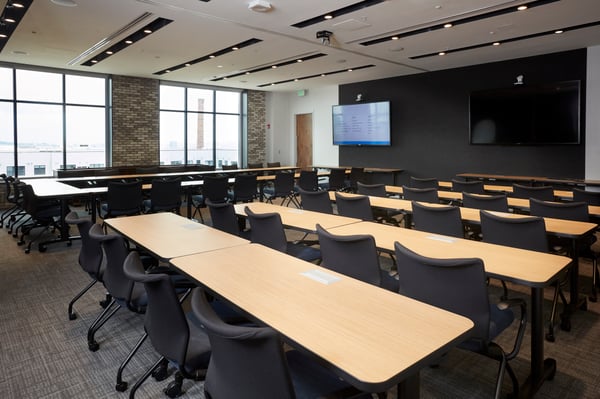 Our internal training room features a sliding soundproof wall that can divide the room for smaller gatherings
New Places to Explore
One of the most fun aspects of any move (hint: it's not packing!) is exploring your new surroundings. This has been especially fun in our new office because it's in the middle of a brand new mixed use development.
McHenry Row includes a healthy mix of residential, business, retail, and eating and drinking establishments. Our "neighborhood" is anchored by a Harris Teeter grocery store.
Some of the more energetic members of our team started a Wednesday Walking Club to encourage coworkers to get out of the office at lunchtime once a week to explore the area. Each week, they plan and share a walking route. Walkers have visited local parks, restaurants and other points of interest.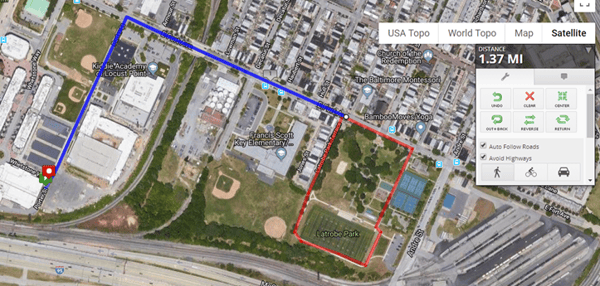 The Wednesday Walking Club recently explored nearby Latrobe Park
Location, Location, Location
Easy on, easy off. That's the best way to describe access to our office from I-95. Within seconds of exiting I-95 at Key Highway, you're at McHenry Row. The location also allows our staff an easy, direct route to go back and forth between our Baltimore and Fairfax offices.
Bonus: parking at McHenry Row is free and plentiful.
Open Kitchen
A modern kitchen with lots of seating and a TV sits in the center of our office. It encourages quick chats and interaction among our team members and visitors to the office.
Rich Shank of our audit and accounting department points out, "I love the central hub of the café because I see my colleagues much more frequently. Not only does this increase comradery, but I see people I normally would not have a casual opportunity to say hello to."
But Not Everything Went According to Plan
If everything always went as planned, life would be boring. As much as we love our new office, it wasn't all unicorns and rainbows getting to where we are now. We had our share of unexpected twists.
Let there be light
While we love all the light from our large windows, we didn't anticipate just how much light there would be. There was SO much light, in fact, that some staff members might have been seen wearing sunglasses at their desks.
No worries, though. In the interest of saving our staff's eyesight, we've got new, heavier duty window shades on order.
We almost had to wear hard hats
Anyone who has built a house knows that construction isn't really done when you move in. The same applied to our new office space. As excited as we were for our moving date to finally arrive, we all underestimated how much work still needed to be done after we moved in.
Let's just say we were on a first name basis with electricians, HVAC technicians and painters. There was just a little a lot of noise and dust for the first month or two after we moved in. We underestimated the disruption, which in hindsight, was pretty minimal.
Voices carry
Children of the 80s will remember the song "Voices Carry" by 'Til Tuesday. Some days, that's the theme song of our office. While we love our open space, high ceilings and polished cement floor, we didn't anticipate just how much voices would carry.
Some staff members like the background noise but others prefer to work in relative quiet. Regardless, we have learned that we all need to be mindful of indoor vs. outdoor voices.
The devil is in the details
While we knew the hassles associated with new construction would be worth it in the end, we underestimated the level of excruciating detail we'd have to deal with. David Goldner oversaw the firm's relocation. He said, "The crazy intricacies of what is involved in designing and building space were pretty overwhelming."
We're Here to Stay
Despite the glitches, it was all worth it. Laura Liberto, our office administrator and behind-the-scenes mastermind of the move, loves the outcome. "The sheer 'newness' of the office makes me smile every day. And I love the neighborhood feel of McHenry Row."
Tricia Thomas, one of our partners, sums it up: "I love the look, feel, location and most of all the feeling that the office is state of the art."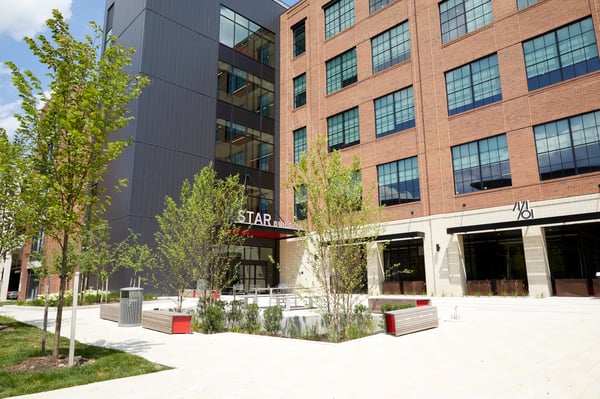 Home sweet home at McHenry Row
Our office was recently featured in the Baltimore Business Journal's Cool Digs column. Check it out here to see more pictures and office specs.
Published on July 30, 2019