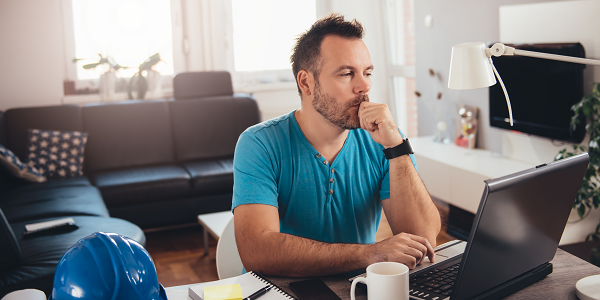 Subscribe
Big Shift in Construction Contractors' Concerns for 2019
Every year we poll Maryland construction business owners and employees to take the pulse of the state's construction industry. This year, we saw a significant shift in the way contractors answered the question, "What are your top three concerns for your business in 2019?"
Let's first take a look at how contractors answered that question in 2018 vs 2019.

For the data junkies out there, this chart shows how contractors' top concerns ranked over the last four years.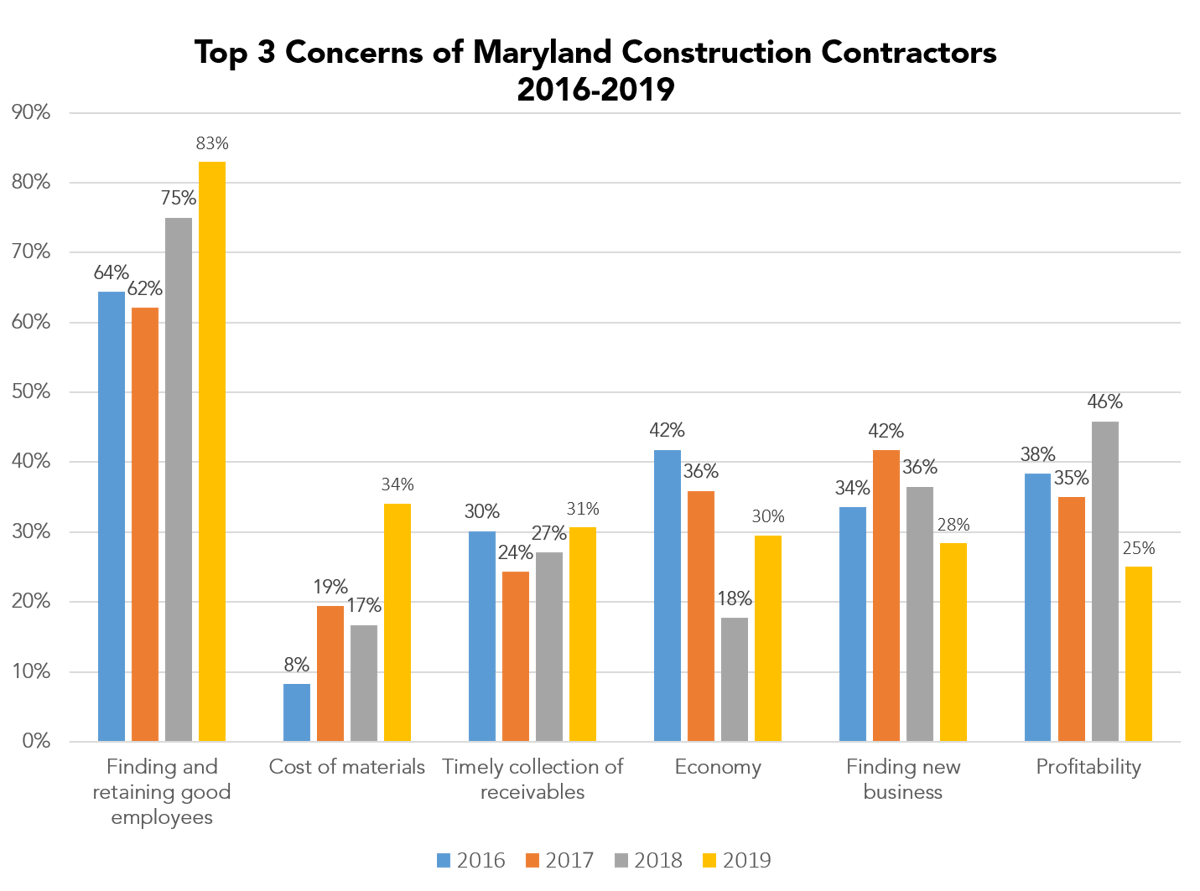 While finding employees has always been the #1 concern over the last four years, and remains so for 2019, the shakeup is notable, with two new concerns entering into this year's top three.
Let's dissect each of these top concerns a bit.
Finding and Retaining Good Employees Is Hard
The struggle to find employees is real – and growing. In fact, the number of contractors who named staffing as their top concern jumped from 62% in 2017 to 83% in 2019.
There are several reasons why hiring has gotten so difficult for construction contractors.
After analyzing the data, we believe the spike stems from issues such as:
Recent unsettled immigration issues
A growing number of construction veterans retiring or leaving the industry
Fewer younger people pursuing blue-collar jobs
Unfortunately, the struggle to recruit and retain quality employees doesn't appear to be going away anytime soon. We recommend to our construction clients that they target the younger generation to fill open positions. This contractor's guide to recruiting younger employees can help you with that.
Cost of Materials Is On the Rise
Between 2018 and 2019, concerns over cost of materials doubled from 17% to 34%.
The jump comes with legitimate reason. What survey respondents are seeing correlates with the Associated General Contractors of America's recent analysis of Labor Department data, which showed a 7.4% climb in construction materials over the last year.
The report points to tariffs and rising fuel prices as two of the reasons for the price hike in metals, asphalt and other materials used in construction.
The good news is that many construction contractors are doing well. There is a demand for new projects, which in turn creates a demand for materials. As you know from basic economic principles, when demand goes up, so do prices.
The bad news is that the cost of materials is unpredictable. With cost of materials usually accounting for about 25% of a bid, it can be tough for contractors to come in with an accurate bid. Unlike fixed costs such as rent, salaries and employee benefits, the fluctuating cost of materials can wreak havoc on bids and profitability.
It's Nice to Get Paid On Time
For the first time in four years of collecting survey data, Maryland construction contractors told us that "timely collection of receivables" is a top concern.
Essentially, they are frustrated with not getting paid on time.
Payment can be a little tricky in the construction industry. Subcontractors, for example, are often at the mercy of general contractors. When a customer is late paying their GC, it causes a trickle-down effect, resulting in a delayed payment to the sub.
While you can't always control when you get paid, you can institute better project management. In addition to helping you keep tabs on where your projects stand, the long term effect of good project management is often increased profitability.
One tool every contractor should use is a WIP calculator. A WIP calculator helps you know the current financial status of any given project, which is key to making sure you have adequate future cash flow and accurate job profitability from appropriate entry, recording and billing of contracts, including change orders. Still not convinced you should monitor WIP? Read on here.
Get Data on the Maryland Construction Industry
We surveyed 150+ Maryland construction contractors as part of our 2019 Maryland Construction Industry Survey. Get data on top industry trends and more in your free copy of our executive summary of the survey results.
Need Help?
Contact us online or call 800.899.4623 to discuss your construction business.
Published on June 12, 2019