Subscribe
3 Takeaways from the 2019 Maryland Construction Industry Survey
After collecting input from more than 150 Maryland contractors for our annual construction industry survey, we sifted through the data and found three common obstacles that are challenging contractors.
Last week I presented the results of the survey to members of the Maryland Construction Network, and we reviewed those common obstacles – and how to overcome them.
Challenge #1
Your best employees are leaving your business.
Finding and retaining quality employees has been a growing concern since 2017. In fact, it's the #1 concern, by an overwhelming margin, among contractors.
We wrote a separate blog post about why hiring is so hard for construction contractors. While wanting a higher salary often prompts employees to think about leaving a company, three quarters of contractors said it isn't the most important factor in deciding whether they'd actually leave.
Recognizing that salary is just one component of employee retention, let's turn to a deeper issue – company culture.
When asked for his take on losing good employees, Maryland Construction Network founder Rob Bertazon said, "There are simply too few skilled workers to go around and there is too little being done to solve the problem. While many issues have been identified, I believe an important one has been ignored. Construction workers are not paid proper consideration as people. The personal needs of the workers are often ignored. Construction workers are expected to be ready and available to work at any time on any day without regard to their personal and family commitments. Management and office staff are treated to a conventional five-day work week with a predominantly set schedule of hours while field personnel are expected to be ready to work whenever they are called upon. If C-level managers were required to be at the jobsites the way they expect their employees to be, things would be different."
Solution: Evaluate and improve your business's culture.
When asked what advice they'd give to a contractor who can't pay their employees more in salary, but doesn't want to lose employees, one of our astute survey respondents said, "More often than not, it is not about the money, but having a sense of belonging and significance."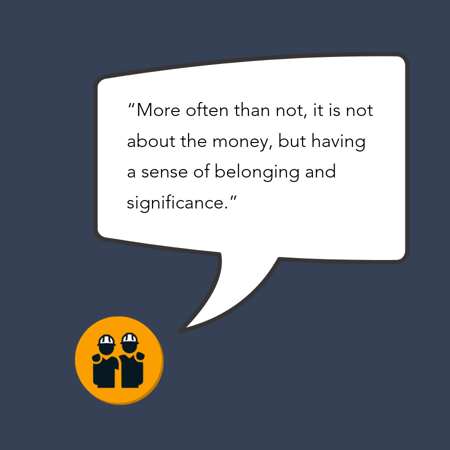 Another contractor suggested a winning approach to retaining employees: "Work to create a culture where the employees want to work there and feel valued."
Put simply, culture matters. There are ways you can foster a winning company culture right now.
In addition, there are a slew of easy-to-implement employee retention strategies can also help you build a positive culture.
Challenge #2
Material costs are cutting into revenues.
The construction industry is humming at a nice clip. These days, most of my construction clients tell me they are easily finding new business, which is a stark contrast to a decade ago.
Despite the growing trend of new projects becoming available, contractors aren't always reaping the benefit. That's because the cost of materials is on the rise. In fact, contractors' concern over material costs doubled between 2018 and 2019.
The Construction Intelligence Center expects global construction industry expansion to average 3.6% a year between 2018-2022. The continued anticipated growth is fantastic news for contractors, but the cost of materials will inevitably rise to meet demand.
Solution: Raise your prices.
Through our survey we learned that 40% of contractors did not raise their prices in 2018.
We aren't exactly sure why this is the case, but we know that contractors are often concerned that they will lose customers if they raise their prices.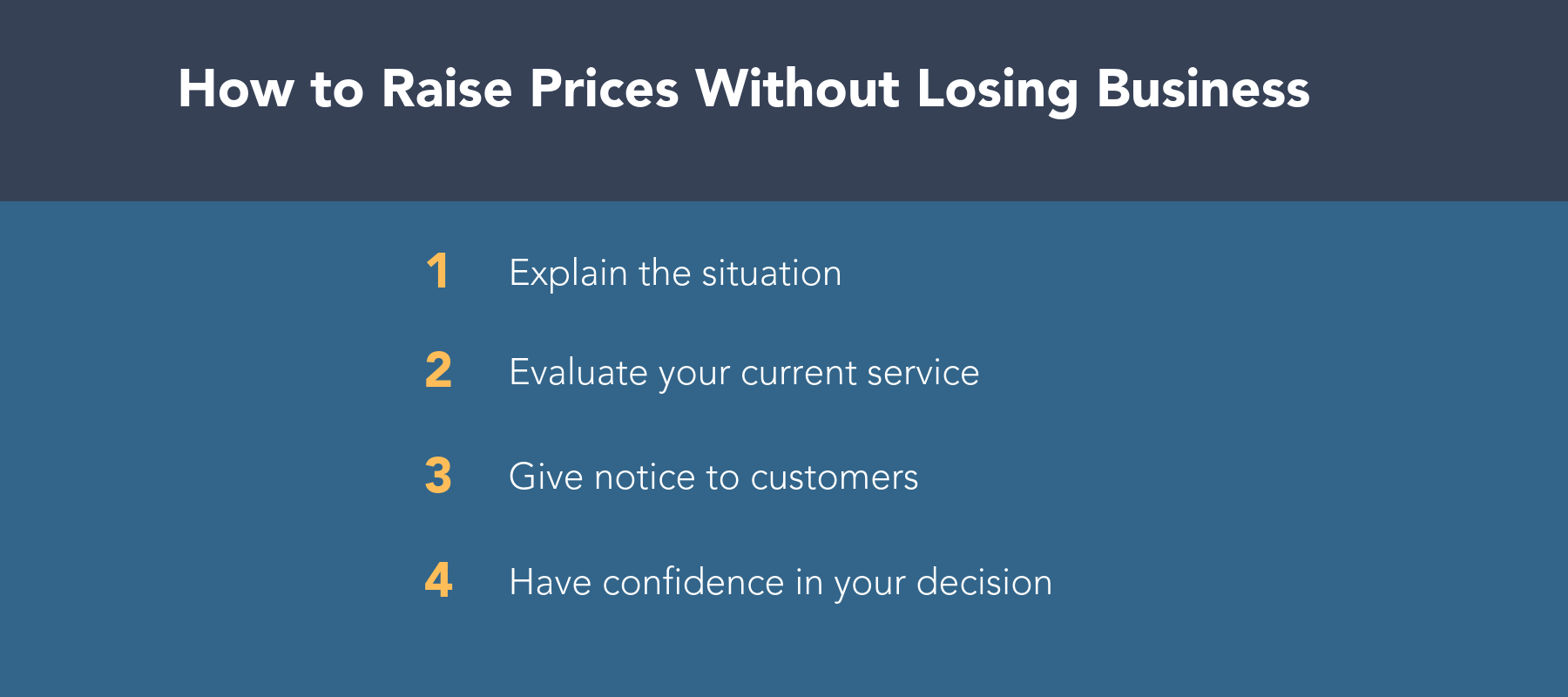 Frankly, if you don't raise your prices, your profits will shrink as the cost of materials continues to increase.
Knowing when to turn down business can go a long way toward making your construction business more profitable.
Challenge #3
Seasoned veterans are retiring in droves.
As if a shortage of younger employees isn't bad enough, experienced construction workers and business owners are retiring in record numbers.
In fact, according to our survey, a third of Maryland construction company owners plan to retire in the next five years.
The Wall Street Journal reported that young construction workers entering the industry has decreased by almost a third between 2005 and 2016.
With experienced workers retiring, combined with fewer workers pursuing construction careers, we're left with an enormous gap. Clearly, recruiting younger employees is more important than ever – so important, in fact, that we wrote a guide on it.
Solution: Commit to giving regular feedback to employees.
You can say what you want to say about millennial (born between 1980-1994) and generation Z (born between 1995-2015) workers, but one thing is for certain: they love feedback on how they're doing.
In our article, 8 Employee Retention Hacks for Construction Companies, we detail some easy-to-implement ways for you to couch your feedback to let your younger employees know how they are performing. Much of this can be done in informal settings, but we recommend that you sit down with every employee at least once a year to deliver more detailed feedback. This construction job employee evaluation form can serve as a framework for your annual employee reviews.
Scenes from Our Annual Seminar
Thank you to our friends at the Maryland Construction Network for inviting us to present the results of the annual construction survey.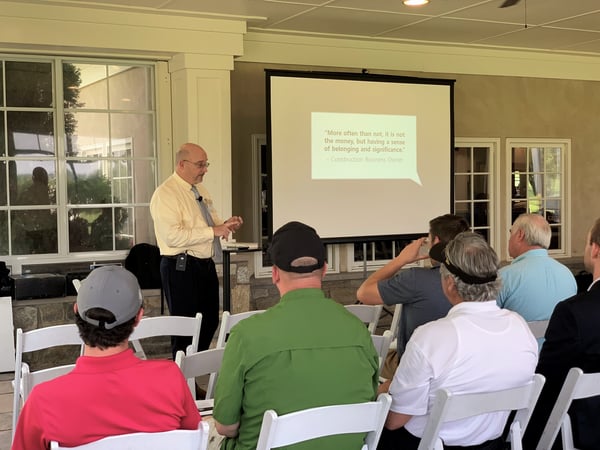 Steve Ball presents the results of the survey to Maryland construction contractors.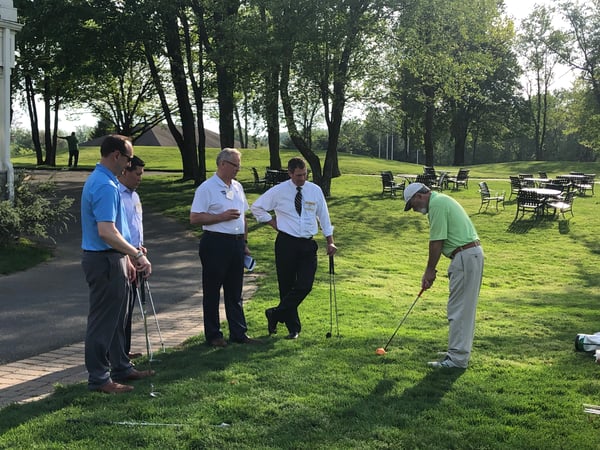 Contractors participated in a putting clinic after attending the seminar.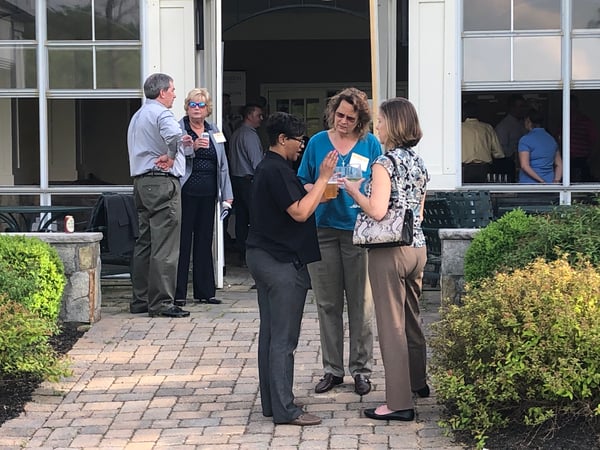 Good old-fashioned face-to-face networking never goes out of style.
Get Data on the Maryland Construction Industry
We surveyed 150+ Maryland construction contractors as part of our 2019 Maryland Construction Industry Survey. Get data on top industry trends and more in your free copy of our executive summary of the survey results.
Need Help?
Contact us online or call 800.899.4623 to discuss your construction business.
Published on May 07, 2019